Polyprint TexJet Range: TexJet1 | ShorTee2 | Echo2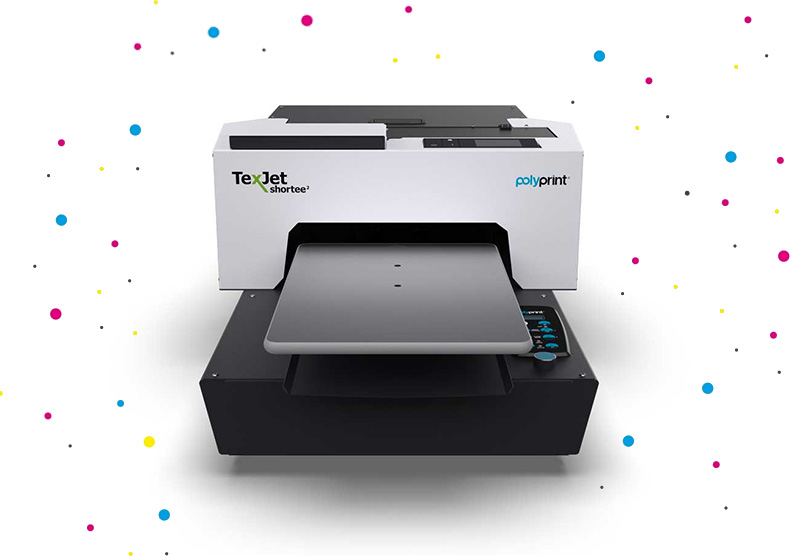 If you're looking to get started with direct-to-garment (DTG) digital printing. Then the Polyprint TexJet Shortee2 Printer is a great entry level option to consider.
The unit is portable and customisable, and is ideal for many types of projects. Despite it's smaller size, it still features a generous printing area.
This machine also utilises a refillable ink solution. Which is both convenient and more affordable then the lock in cartridge model.
What is the Polyprint TexJet Shortee2 DTG Printer?
The TexJet Shortee2 DTG Printer is one of the newest models offered by the Polyprint Company. (A Greek Company with distributorship's around the world)
This model is an upgrade from the original TexJet Shortee. According to the company this unit features 70% better performance. Which is quite a leap forward. It also has a more compact size than the previous iteration.
An on-board keypad makes using the machines primary functions easier. And the tailored design software is both simple to operate and intuitive to use.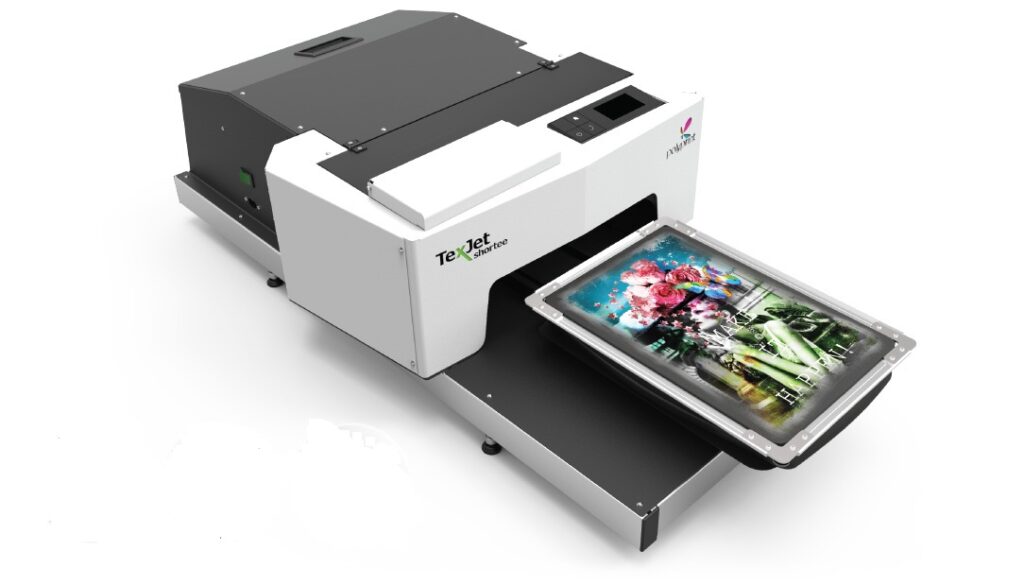 More serious print houses would consider this unit an entry level model. Meaning that it is more appropriate for the small beginner businesses. Or something an occasional home hobbyist would use.
Several different customisation options for this DTG printer include:
the type of ink used
overall ink configuration
pre-treatment solutions
and platen options
What Are the Top Benefits of Using the TexJet Shortee2 Printer?
There are many benefits of owning a TexJet ShorTee2 DTG Machine.
1. The Large Platen Size
As we mentioned earlier the number one benefit is the large platen size. The largest print area measures 32-centimeters by 45-centimeters. This give you plenty of flexibility for creating large and intricate designs.
Plus the five extra platen options allow you to choose the best size for the garment style you're printing on.
2. The Ink System
You also have the option to select between Power Inks and Dupont Inks. These ink offer the exact vibrancy and colour you want in an ink.
A lot of designers like these two inks because of their quality and consistency. Which makes this a definitely plus in favour of this printer model.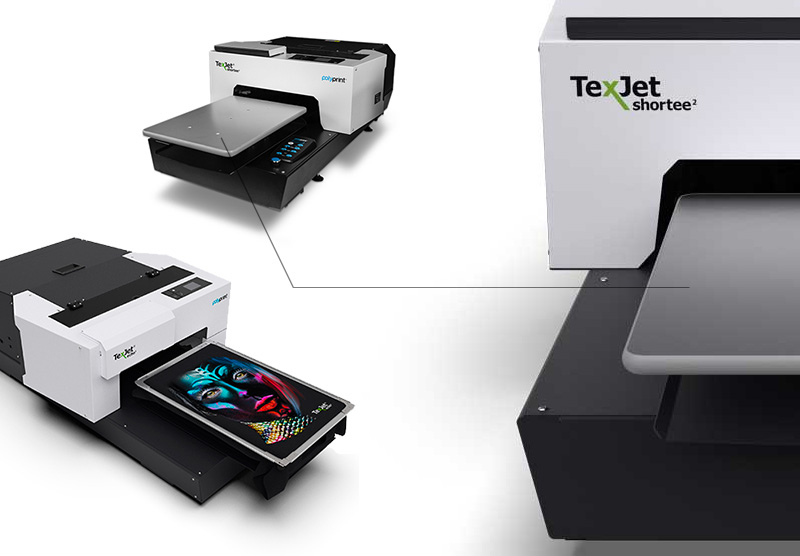 3. Generous Warranty
If getting a warranty is important to you, Polyprint has it. Boasting a three year limited mechanical warranty on all their products. This usually "excludes" the print heads.
As of this writing, there haven't been too many reports of people having issues with the Printer. Though, it is still good peace of mind in knowing that the unit comes with this guarantee.
Like What You're Reading?
Potential Downsides
We believe none of the issues mentioned below are major red flags. We feel we need to include them as they do concern a small group in the buyer pool.
Limited Print Capacity
Make sure it is enough to handle the volume you're doing. This model would not be suitable for a large or high volume business.
Take note if you're a screen printer looking to expand. The DTG market is growing rapidly.
While ~80 per hour for whites is reasonable, the ~20 per hour for darks is limiting if you have a large customer base.
Note: The factory recommended speed tests sounds really great. However you need to remember, these numbers are never accurate. Nor do they actually reflect what happens in real life production. We always recommend you do your own 'speed-tests' at the dealers showroom or at a trade show.
Ink Changeability
Another potential flaw mentioned in the community is that it only accepts two types of ink.
For designers and creators that have a specific hue or vibrancy level in mind. This can be somewhat of a nuisance.
No Jumbo Size Print
While we think the largest print size is ample for most projects, it might not be large enough some customers. There are machines on the market that can print much larger designs.
We believe that market for jumbo printing is very small. While the low cost and portability of this model are the main features. Jumbo printing is just not an option.
Final Thoughts About the TexJet Shortee2 Printer
For most start-ups and small t-shirt design businesses, the Shortee2 is an ideal way to create custom designs while on the go. The generous print area and ability to configure ink and pre-treat options is definitely a plus.
If you're looking for a great entry level direct-to-garment printer, this is certainly a great option.
Are you ready to learn more about how to add the Polyprint TexJet Shortee2 Printer to your printing business?
Contact a Polyprint Dealer

Want To Learn More About DTG Printers?