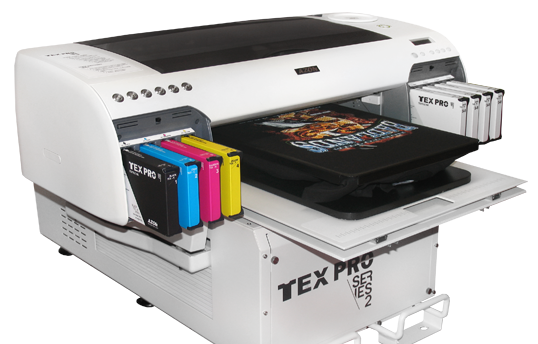 The all new Azon Tex Pro – Direct to Garment ink jet printer is part of a revolution in the field of garment printing in more ways than one.
This DTG printer is capable of producing crystal clear prints on a wide variety of garments.
The manufacturer boast that the prints they produce are water resistant and do not fade even after repeated use.
Like a lot of DTG printers Azon Tex Pro Garment ink jet printer, is capable of printing beautiful colour prints on all kind of T-shirts, both light and dark. It can also be used to print on:
Jeans
Towels
Bags
Aprons
Blankets
Pillow covers
Door curtains
Table tops
Advantages of Using Azon Tex Pro – Direct to Garment Ink Jet Printer
The most important advantage of using the Azon Tex Pro printer is its ease of use.
All you need to do is feed the Azon software with the kind of design you want to print and a choose colour.
You can feed the design to the digital printer through one of your USBs or a LAN network. And the rest will be taken care of by the Azon Tex Pro.
The other important advantage is the pricing. This is one of the most cost effective digital printers available in the market today, with the DTG printers prices start at $20,000
It is equipped with an intelligent laser printing system which has beam print and head protection.
The running gear comprises of an Epson DX5 print head that uses both CMYK and white ink jets (4 each) to enable you to print on both light and dark t-shirts. White ink is generally used to create an under base before printing colorful prints on dark textiles.
The inks are contained in pressurised cartridges for even print flow.
The print output it produces has a resolution as high as 1440 dpi.
Like What You're Reading?
Print Speeds:
This print speed is depending on the fabric and its thickness. According to Azon, their Tek Pro DTG printer is capable of printing full colour (CMYK) as many as 50 light t-shirts per hour.
On dark shirts with 2 pass (WWWW) then (CMYK), a maximum of 15 dark t-shirts per hour. This is based on an A4 size design. This is an amazing speed for any kind of garment printer.
It must be noted that the t shirt handling time and pretreatment must be taken into consideration when calculating the actual production time.
If you own one of these printers, or you have any feedback on this print speed, leave a message here.
Note: The factory recommended speed tests sounds really great. However you need to remember, these numbers are never accurate. Nor do they actually reflect what happens in real life production. We always recommend you do your own 'speed-tests' at the dealers showroom or at a trade show.
Specifications:
This is one of those new age digital printers that make use of ink-jet technology that is capable of printing on textiles sized up to 420 x 600 mm and with up to 100 mm thickness.
It runs on AC 220v and has a power of 59W, and can also withstand temperatures up to 30C.
All in all, if you are looking to buy a DTG printer that can produce the best colorful prints possible and can return your investment pretty soon, Azon Tex Pro – Direct to Garment ink jet printer could be a good place to start.
Price:
Azon DTG printers prices start at $19,990 + GST + Delivery
What's Included in the base price?
1 set of cartridges (Cyan 220ml, Magenta 220ml, Yellow 220ml, Black 220ml, 4 x White 220ml). T-shirt table (Standard), Precoat 1L, TexPro cleaner 250ml, Calibration plate (43 x 65cm), Nozzle check sheet (21 x 15cm),
Tube for connect syringe and dumper, 10 cleaning sticks, spare chip for sealed cartridge, chip reseter, spray gun wagner W550, digital scale, digital hygrometer/thermometer, 10 baking paper A3, CAT5 UTP crossover cable 10m, USB cable, power cable, DVD with software & documentation.

Is This The Best Value For Speed Printer In The Market?
Let us know! If you have some experience with this machine, we would love to hear your opinion,
leave a review here.
Interested In This Printer? – Contact the Dealer Directly
There is no supplier in Australia. The previous supplier is only supporting the current installations until AZON find a new agent.
Want To Learn More About DTG Printers?