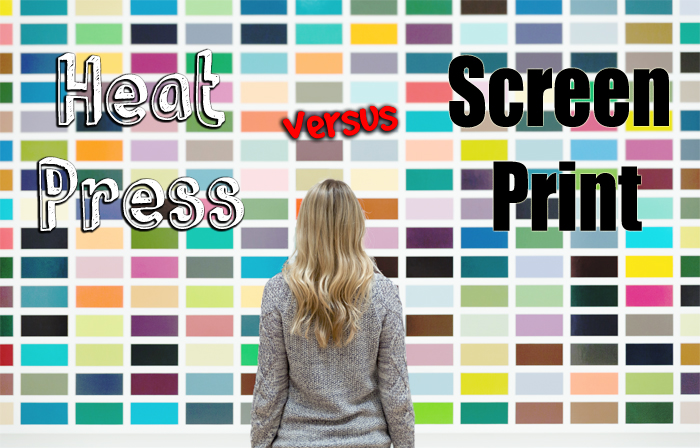 A Heat Press and Screen Print both serve the same purpose: printing custom designs on T-shirts and other clothing.
However, there is a difference in technology and consequently, also in the final output.
Let us take a closer look at both these printing methods and analyse the major differences between them.

Heat Press:
What exactly is a heat press and how does it work?
A heat press uses a combination of heat and pressure to transfer an image onto a substrate, usually a fabric like a T-shirt or pillow cover.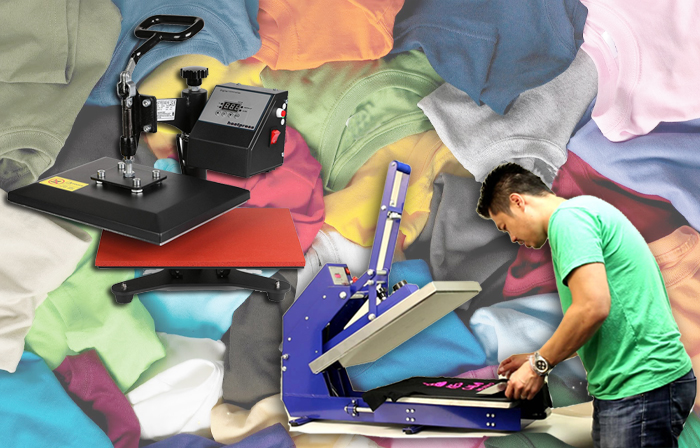 There are two main types of heat transfer methods – one uses vinyl and the other involves digital print transfer better known as sublimation.

In vinyl transfer, the machine cuts out pieces of coloured vinyl into various shapes, letters and designs. The final image is arranged in reverse and then transferred onto the fabric through a heat press.
Newer machines use digital print transfer for better precision and finish. During digital heat transfer, the desired graphics are first printed onto a special type of release paper using a special type of dye.
This type of dye is subliminal, meaning that it goes directly from solid to a gaseous state without turning into a liquid. The image on the release paper is then transferred onto fabric using a heat press. The ink is allowed to cool and the paper is simply peeled away.
A heat press usually applied about 27 kilograms of pressure, at temperature of about 190.5 degrees Celcius (375 F). However, this range varies depending upon the type machine and the type of transfer.
Advantages of a Heat Press
This printing technique is environmentally friendly. It is possible to procure phthalate-free inks. It works and dries exactly like conventional dyes – it is just greener.
Heat pressing facilitates use of multiple colours. This allows you to create fairly intricate designs and graphics.
No registration marks.
Works great for transferring photographic material onto fabric
Heat pressing produces a high quality image with good finish
A heat press is much more affordable in comparison with a screen printing set-up.
It is also much easier to set up.
Limitations of Heat Pressing
Perhaps the biggest limitation is that the vinyl prints cannot be ironed. You have probably had a few ironing accidents wherein the print has melted and stuck to the underside of the iron. However, this issue is easily circumvented by ironing over the back side.
The spot colour vinyls do not overlap, but this can be offset by using print and cut vinyls
Heat Pressing sublimation produces the best results only on lighter coloured fabric. It doesn't gel well with darker shades such as black, royal blue etc.
The process is time consuming, especially so if you need to make a large number of similar prints for a company or some other organization.
Screen Printing:
What is screen printing and how does it work?
The screen is actually just a fine mesh with a strong frame. In olden days, screens were made of silk-strands and hence the technique was refered to as silk- screening.
As of today, meshed screens are composed of synthetics fibres such as nylon or polyester.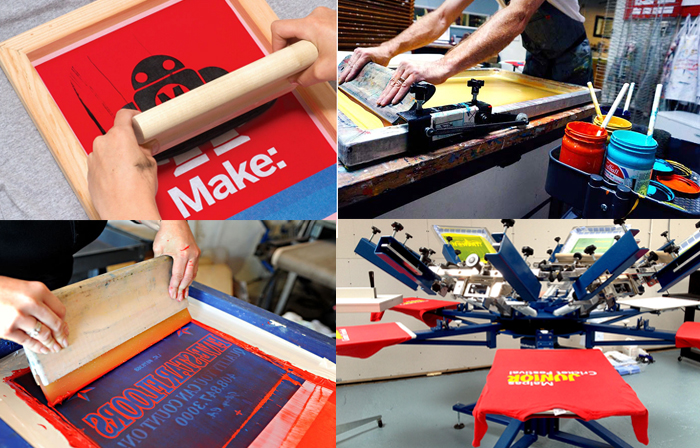 Screens vary depending upon mesh number (size), number of filaments in a single fibre of the mesh (mono or multi-filament) and so on.
A screen with a very fine mesh produces better detailing. A large mesh aperture is suitable for bigger shapes and letters – it cannot recreate fine detail.
Let us imagine that John wants to imprint the letter A onto his T-shirt. First, he will create a stencil using paper or an emulsion that is fixed onto a plastic sheet.
Like What You're Reading?
Stencils can be cut by hand or they can be produced photographically (photostencils).
Photostencils use photo-sensitive emulsions, the emulsion is exposed to a film positive using ultraviolet light. This causes the emulsion to harden in the areas where the image is not present.
The stencil is adhered to the screen using water or a special type of adhesive (the plastic sheet is removed). The screen is then placed over the fabric and everything is held in place tightly using tapes.
A viscous 'paste ink' is applied onto one side of the screen. The ink is then spread over the screen using a squeegee, which is nothing but a tool with a handle and a smooth rubber blade.
The process of spreading is known as the 'stroke'. The ink passes through the open areas of stencil and the fine mesh to recreate the image onto the substrate below.
The screen is then separated from the fabric. The stencil is removed using a solvent or water and the screen becomes reusable again.
However, you probably noticed that only a single color can be applied onto the screen at a single time. If John wanted to print the B in a different colour, he'd have to repeat the process all over again.
Advantages of Screen Printing:
Creates a softer feel than a heat press.
Produces bright images, even on dark coloured fabrics
Highly versatile technique – can be used not just for t-shirts, but also for wooden objects, pens, bottles, leather etc.
Ironing does not affect the print.
Highly durable graphics. The fabric can be washed in washing machines.
The screen setup remains the same irrespective of the number of images. Thus, this method is ideal for large scale production.
Very suitable for larger designs that feature one or two colours.
There are no limitations on size. This technology can be used to create all-over prints.
Screen printing works very well for cotton and polycotton fabrics.
Limitations:
Not suitable if an image has multiple colours. You need an individual screen for each and every colour in your design.
Cost of production is high for a small number of t-shirts.
Setup is cumbersome and requires a good bit of cleaning afterwards.
So that brings us to the big question: Heat Press Vs. Screen Print. Which one should YOU opt for?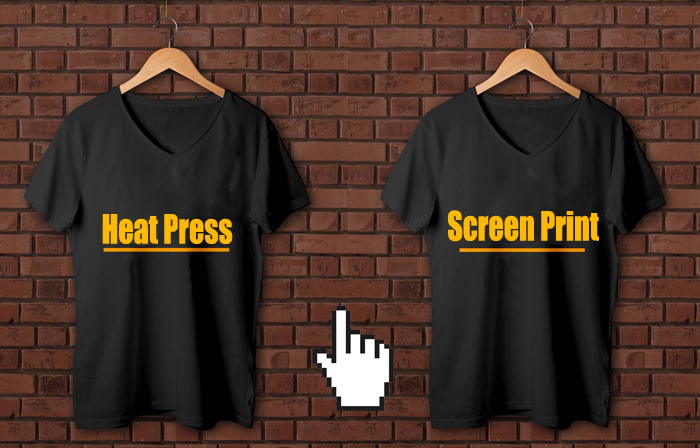 Well, that depends upon the nature of your business.

If you want to create highly customizable designs with many colours, a heat press will do the job within a smaller time frame and at a low production cost.
You can even take orders for just one or two custom designs and deliver them in only a few minutes.
The average time to transfer an image onto fabric is just 12 to 15 seconds. Since, this method allows a lot of flexibility, you can print different names on team jerseys.
Heat pressing is highly suitable for creating specialised gifts according to individual tastes.
If your business is printing t-shirts, it is very likely that you will be dealing in greater volumes.
Hence, it makes much more sense to choose screen printing. You can print on any colour.
The print will be softer, more durable and of better quality.
Want To Learn More About DTG Printers?