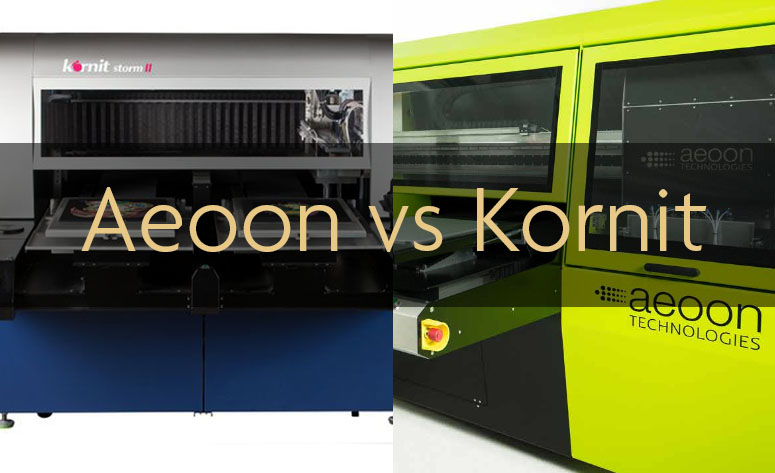 In the world of DTG printing, there are a wide variety of companies offering a range of products. Aeoon and Kornit are two such companies.
Both are titans in the industry. Both companies offer high quality industrial grade printers that are capable of 24 hour-7 days week production schedule.
However, which is better? It depends on what you need from your machine and how much you're willing to spend.
In this article we will explore both Aeoon vs Kornit: Which DTG machine is Better?
We'll look at the similarities between them as well as their differences so that you can decide if one company suits your needs more than another does.
Similarities Between Aeoon and Kornit
Aeoon and Kornit are both manufacturers of industrial grade DTG (direct to garment) digital t-shirt printing equipment. By the term "Industrial grade" we mean machines are extremely heavy duty and that are designed for high capacity production.
Heavy duty is what sets them apart for the other Desktop style DTG machines on the market.
Uber high speed print production
Highly efficient in terms of consumables
Durably built to endure the expected 24-7 capacity that's it users demand
Finally the price. The cost to purchase one of the bad boy is through the roof. Expect to pay many hundreds of thousands of dollars up to million for the top of the line models.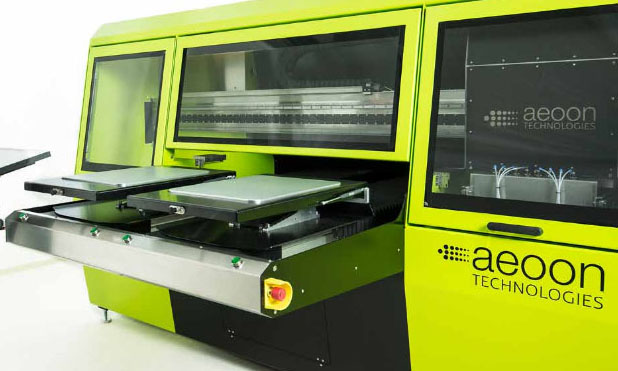 Pre-Treatment and Print Speeds
There is a massive difference between Kornit and Aeoon with regards to pre-treatment. Aeoon requires garment be pre-treated prior to printing, whereas the Kornit uses a wet-on-wet process.
Wet-on-wet is where the pre-treatment solution is applied to the shirt inside the machine and then the machines switches heads, then prints directly on top of the wet pre-treatment. The wet garment is then cured.
Using this process, Kornit has a very high all round production speed as it eliminates the pre handling of the shirt prior to printing. Achieving speeds of between 100-200 shirts per hour. However this process has some limitation as we will soon find out.
Note: The factory recommended speed tests sounds really great. However you need to remember, these numbers are never accurate. Nor do they actually reflect what happens in real life production. We always recommend you do your own 'speed-tests' at the dealers showroom or at a trade show.
In the consumables department, there is a big difference between the cost of the pre-treatment solutions that both companies offer.
The solution that Aeoon uses is about 3-4 times more expensive than that from Kornit. However the cost alone is not the only factor to consider here. This pre-treatment enables the Aeoon printers to print at incredible speeds. A mind boggling 500-1000 shirts per hour.
Comparing these production speeds alone would be a mistake. You also need to take into consideration the initial garment pre-treatment times (prior to printing) plus the extra cost of the pre-treatment itself.
Another consideration is you would need additional operators to achieve these top production speeds.
*A single operator could pre-treat offline anywhere from 300-400 shirts and hour.
The main problem with Kornit's internal pre-treatment system is this. Pre-treatment is corrosive. The Kornit machines are spraying pre-treatment inside the machine with every print.
This could lead to a whole lot of service issues with regards to corrosion inside the machine – affecting moving parts – including the uber expensive print heads.
You really should check the service agreements that Kornit offer, to see if this issue is addressed. I would think it's going to be problem over time or after x number of prints.
✓ (Pro's) and X (Con's)
Aeoon
Pre-treatment is done offline prior to printing
Dry Printing means less corrosion
Dry Printing produces the best print result
Expensive Pre-Treatment Consumables
Kornit
Pre-treatment is done at the same time as printing
Wet-on-wet causes corrosion and service issues
Wet-n-wet produces acceptable quality prints
Kornit Pre-treatment is a 3x Cheaper consumable
Korni only offers one kind of pre-treatment all fabric type which can have mixed results.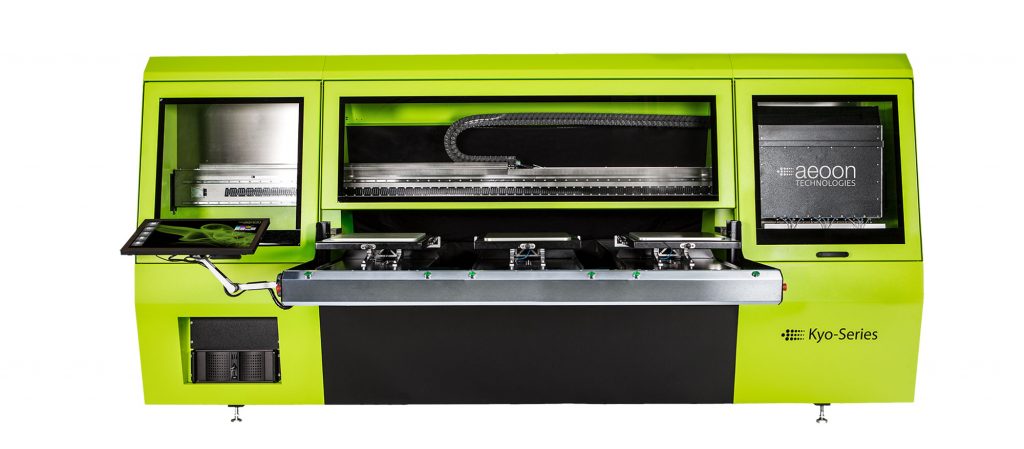 White Inks Consumables
White inks are one of the biggest expense with dtg printing. And sadly the more you print the higher the cost is.
The ability to buy these consumables in bulk and get a discount is always a good thing. However many manufactures want to keep ink sales in-house and rarely give discounts on their most valuable commodity. Kornit is one such company.
They have gone so far as to embed chips on their ink bottles, so if you substitute the ink your printer won't function. It also estimates ink usage and will simply stop you from printing when it believes your bottle is empty. So you can't just keep topping them up.
I believe, forcing clients to use your brand creates tension and puts the customer at a huge disadvantage. A company like that has no incentive to be competitive. This is obvious when you compare the inks cost per litre for each company.
On the other hand Aeoon uses dupont inks. They are readily available and produce a much more vibrant finish than Kornit inks do.
Additionally, Aeoon does not place chips on their ink bottles. This says a lot about each company and should absolutely figure this into your decision at the end of the day.
✓ (Pro's) and X (Con's)
Aeoon
White Inks are Dupont and freely available
Aeoon does not put chips on their ink bottles
White inks are Cheaper than Kornit
Print on an Aeoon look more vibrant
Kornit
White inks are only available through Kornit
Kornit won't work if you don't use Kornit ink
Kornit inks are more expensive that Aeoon
Kornit inks are good but not great or awesome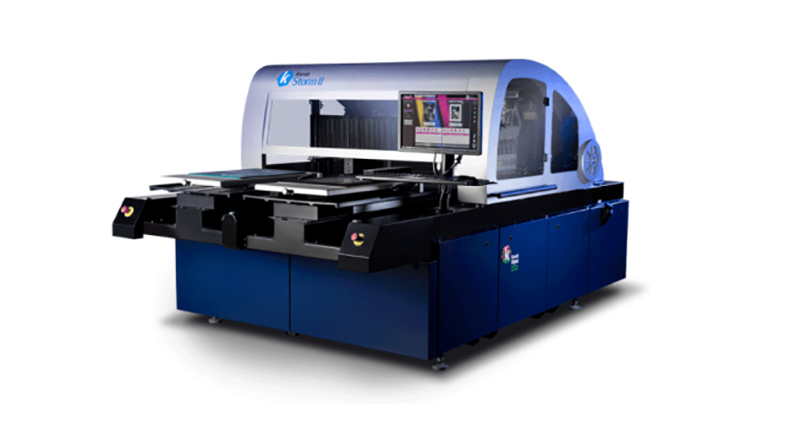 RIP's and Print Quality
Reducing the amount of ink needed for each print has been a mission for Aeoon for many years. The Kothari RIP system that Aeoon employs on all of their printers is fulfilling that mission.
The Kothari RIP (raster image processor) removes the parts of an image that matches the colour of the garment which the image will be printed on. The process is automatic, so one less thing for the operator to do.
This process saves a fair amount of ink on each print which adds up to a massive saving in ink costs each year. That is like money in your pocket.
With the added benefit of dry printing, the image results are amazing. Less ink applied to the garment equals a much softer hand feel. Again a result most customer are looking for.
In recent years Kornit has made improvement s with their RIP technology with their new HD series of printers. However, previous to this, the difference between the two printers in regards to print quality have been night and day.
✓ (Pro's) and X (Con's)
Aeoon
The Kothari RIP – reduced ink gives better hand feel
Dry printing and dynamic RIPs = high print quality
Kornit
Kornit RIP technology only with HD series
Wet printing and dynamic RIPs = good print quality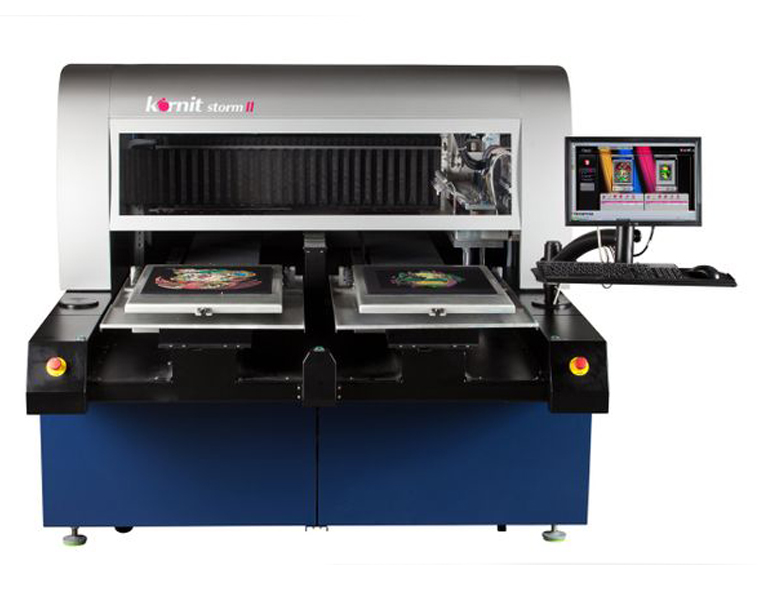 Service and Support
The difference between Kornit and Aeoon is simple. Kornit wants to lock you in and purchase extended service agreements and force you to pay for their service engineers brought on-site.
Where Aeoon would rather train their customers to fix most of the issues themselves. A sensible solution to help customer minimise any down time.
Both company's have service contracts for a fixed sum each year. They both are similarly priced.
*We don't quote prices any more as they often change. It is best to get a quote at the time of purchase.
✓ (Pro's) and X (Con's)
Aeoon
Aeoon offer a one-year warranty
3 types of extended service agreements
Kornit
Kornit offers 6 months
3 types of extended service agreements
Conclusion:
Aeoon's Kothari RIP technology and dry printing process make it a clear choice for high-quality prints. Aeoon also offers 3 types of extended service agreements, including one year warranty as well as an additional 6 months if you buy their printer outright.
The company doesn't force customers to use any particular ink brand like competitors do; instead they offer Dupont inks that are freely available and produce vibrant prints with less ink applied directly to the garment which gives better hand feel.
We leave you to make your one mind up. Test drive each machine yourself in a showroom and do you own due diligence.
Let us know if you have some experience with this machine, we would love to hear your opinion.
Want To Learn More About DTG Printers?