Ricoh Industrial DTG Models: Ri 3000 (Base) | Ri 6000 (Advanced)
Ricoh DTG Printing machines are no longer available in Australia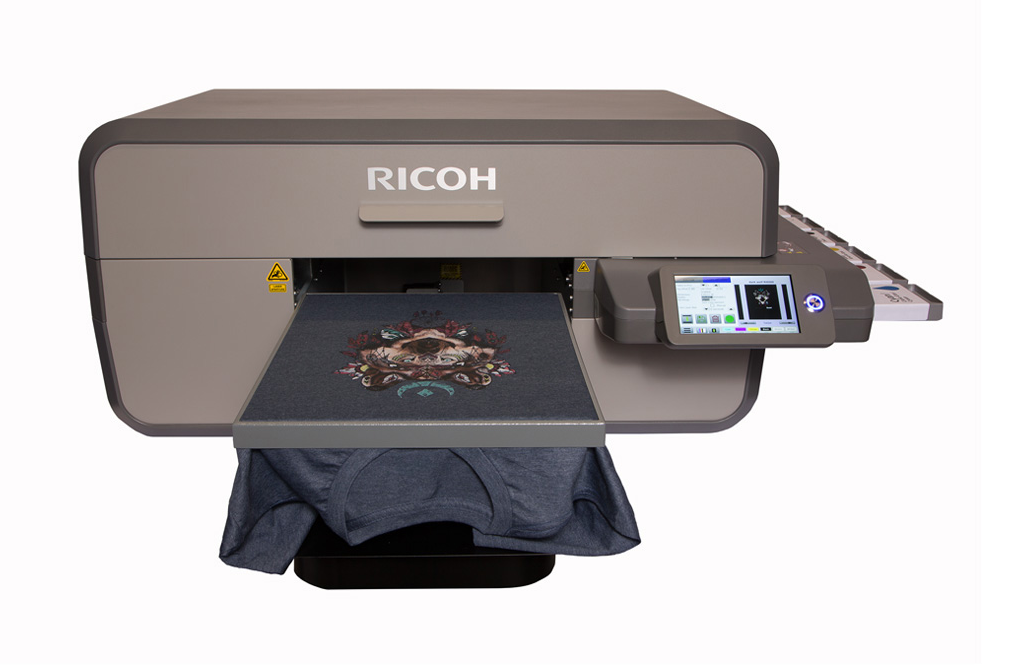 Many dream of owning their own business, especially in difficult economic times. This is the reason why some people turn to garment printing.
Although never guaranteed, finding a good machine can often be the key to your success or to your failure.
Today, we are going to look at the RICOH Ri 3000 Digital T-Shirt printing.
Is it a good investment?
Should you consider it?
Is the Ri 3000 for you?
For a professional print shop, the Ricoh Ri 3000 is good value. In comparison to other machines in this category, the price is reasonable. Which is always a good start!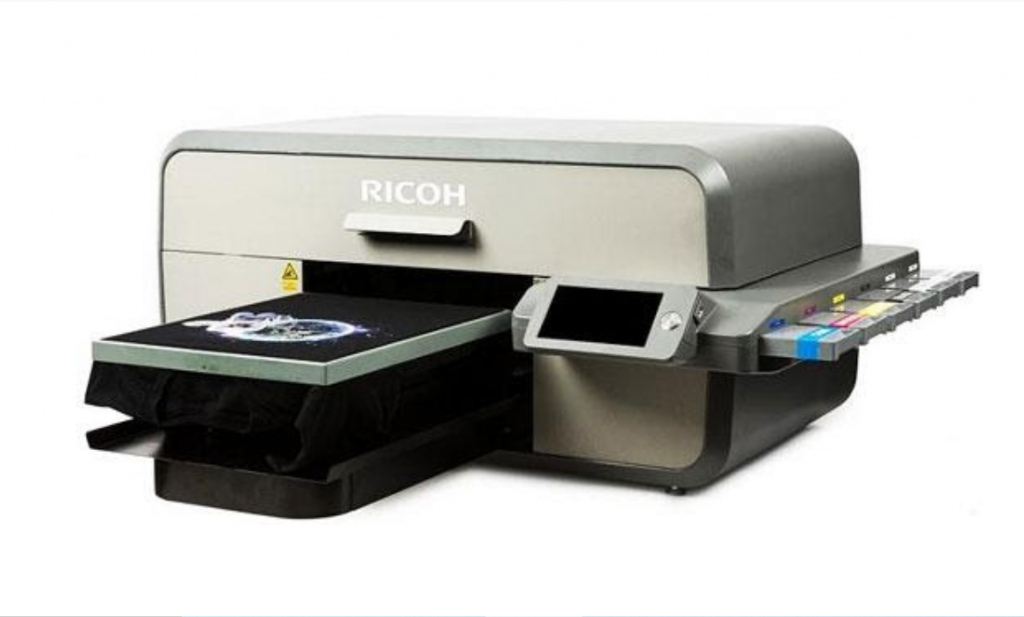 It is fast enough to make you money. Maybe not a fortune, as it is an entry level machine.
If you want more speed check out the Ricoh Ri 6000 instead.
The factory recommended speed tests sound great. However, remember these numbers are never accurate. Nor do they reflect what happens in real life production. We always recommend you do your own 'speed-tests' at the dealers showroom or at a trade show.
R1 3000 Features and Benefits
Versatile
The machine is versatile enough to print on a wide variety of garments. The adjustable table height of the Ricoh Ri 3000 allows you to print directly on thicker garments, such as sweatshirt and hoodies, and traditional T-shirts.
Printable Garment Type Fabric: 100% cotton and high-cotton blends, 100% light polyester, 50/50 dark polyester, wood, canvas, hats and other available extended media options.

Ricoh.com
You can also print onto canvas bags, hats and other high value promotional items. According to Ricoh, the printer can also handle natural fibres and polyester blends. Although we have never tested these fabric.
3 Print Heads
The print heads produce photo quality pictures, making them suitable for printing custom jobs.
The 3 x MH2420 industrial grade piezo-electric print heads, 1 white and 2 shared colour print heads, surprisinly produce great print quality.
Technology: MH2420 industrial grade piezo-electric drop-on-demand inkjet printer.
Its 100-billion-actuation-rated print heads can manage high volumes. The automated cleaning, maintenance features and durable construction allow you to save on operating costs by reducing down time.
Resolution: Draft Mode: 600 x 300 dpi and the settings for, Speed, Fine and Superfine Mode all run at 600 x 600 dp
Inks and Cartridges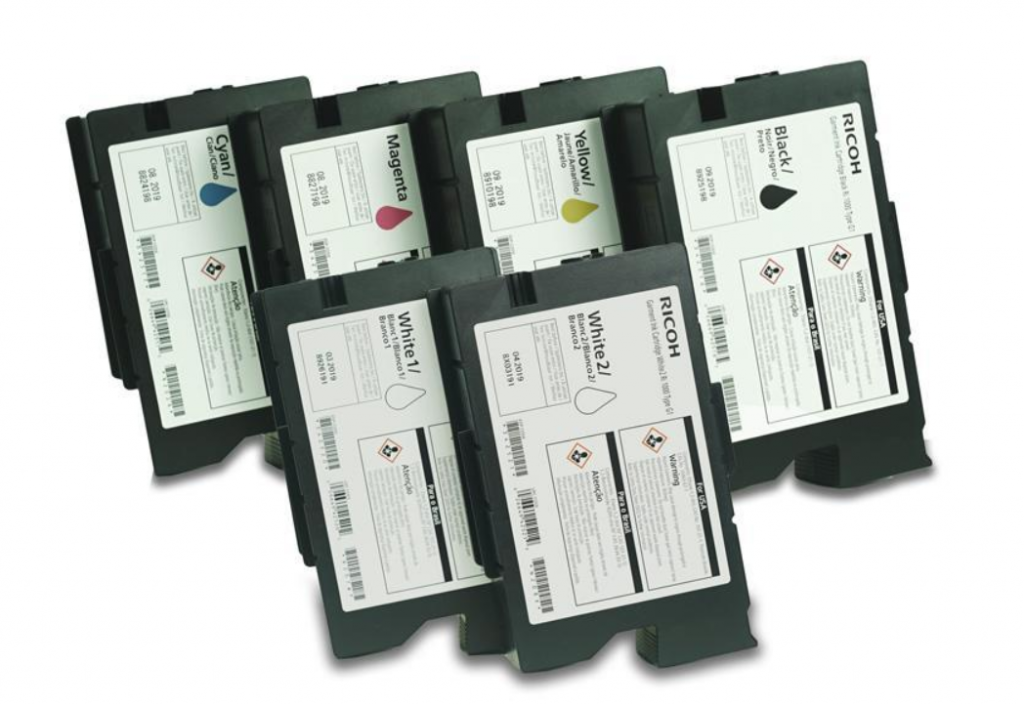 The water based inks are harmless to people and animals. They are compliant with environmental regulations.
Cartridge dimensions: (Excludes a projection area of 4.2 mm)
Standard: 278 x 25 x 100 mm
XL Cartridge: 385 x 25 x 100 mm
The white ink circulation feature operates every 20 minutes to eliminate settling issues.
Ink Type: Must use genuine Ricoh/AnaJet direct to garment water-based pigmented CMYK and white inks
The Ricoh Ri 3000 has good vibrancy and saturation control, allowing you to get good results . By printing layers of colour on top of a layer of white, you can even good results on dark fabrics.
Ink cartridge: Ricoh garment ink Type A, cyan, magenta, yellow, black
XLPowerBright—white 220 ml—Standard 440 ml—
Note: The inks meet pollution and safety chemical toxicity standards.They are harmless to human beings and animals, are compliant with environmental laws of the country in which they are used, and they are listed in the existing chemical substances register.

ricoh.com
Ricoh Ri 3000 DTG Review
With the Ricoh Ri 3000, you can produce custom jobs that are exactly what your customers wants.
With such results and with the wide variety of garments you can print on, you will be able to offer a wide variety of items and styles.
This will offer you many options for your business. You can sell and print on demand clothing online, make pre-printed items to sell online or in stores, take on contracts for other businesses, and more.
The Ricoh Ri 3000 is also a suitable printer for promotional items. If your business has a regular need for custom promotional items, this printer would save you money by allowing you to operate within your business. It is also easy to operate.
How Big is it?
This is a good machine for a home based business, as it does not need a lot of space.
Dimensions (W x D x H): 110(W) x 140(D) x 150(H) cm
Waste ink tank Weight: 81.6 kg
However, remember that the humidity and temperature of a room affect the machine performance. So, we recommend you not to install it in a garage.
Operating Conditions:
Temperature: 15°C to 32°C,
Humidity: 45-80% RH, non-condensing humidifier
Maintenance
Maintenance is an issue when the machine is left idle. The auto cleaning feature is a big help with that. However, if the machine is not in production, it will cos you money every time it auto cleans.
Maintenance is easier with the Ricoh Ri 6000, as it has 6 print heads, while the The Ricoh Ri 3000 has to share colours on a couple of heads. So, auto clean aside, you still need to do some regular cleaning.
The machine needs to be left on all the time. So, consider the issue when making your final decision.
Standard Platen
The standard printable is decent size at 35cm x 45cm
Printable Area: 14 x 18 inches—standard platen
Start-up time
The start-up up time is impressive with the completion in less that a minute.
Warm-Up Time: 45 seconds or less
Technical Support
Technical support is responsive and helpful.
If any problems develop, they will promptly attend to you.
Conclusion
The Ricoh Ri 3000 is a good machine considering its price and features. Not small like the Ricoh Ri 100, but it has a place in a modern print shop.
There is a lot of demand for garment printing services. This printer will allow you to produce a good volume in a reasonable time.
The Ricoh Ri 3000 will provide you with a good financial return for your investment.
---
Interested In The Ri 3000? – Contact the Dealer Directly