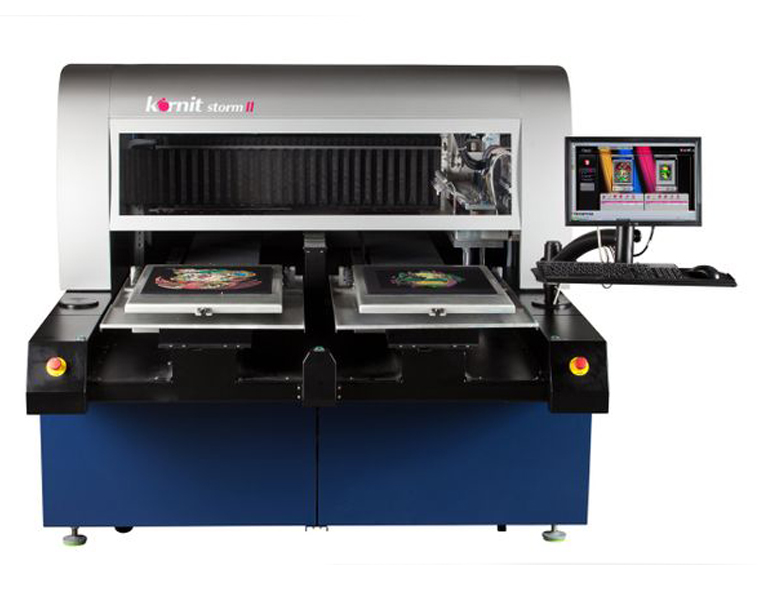 Are you serious about your T Shirt printing business and are curious about the various options available to you?
There is a huge range of T Shirt printers on the market, and it can be difficult to decide which one is the best for you and your business.
One of the more popular industrial grade digital printer manufacturers is the Kornit.
The Range Of Kornit Digital T Shirt Printers
One of the great things about Kornit is that there isn't just one printer to choose from.
There is a whole range, ranging in size and scope so that you can get a printer that is right for you and your business.
If you are looking for speed over anything else then you should consider the Kornit Avalanche, which can operate for 24 hours a day at up to an incredible 200 shirts per hour.
Whereas if you are more concerned with ultra quality T Shirts, and are not as concerned with speed, then the Kornit Breeze is the choice for you.
It prints at 40 shirts an hour, but the shirts are of an extremely high quality.
Note: The factory recommended speed tests sounds really great. However you need to remember, these numbers are never accurate. Nor do they actually reflect what happens in real life production. We always recommend you do your own 'speed-tests' at the dealers showroom or at a trade show.
There are models designed for more advanced colours and T Shirt designs, and also models for more industrial uses.
Like What You're Reading?
Reasons to consider using Kornit Digital Printers:
Ranges of Kornit Digital Printers share extraordinary features that are suitable for t-shirt business
Each of the models can perform 24 hours a day, 7 days a week for huge orders
Kornit manufacture their own ink called Neo Pigment Ink which is a high quality ink manufactured specifically for the printer
Kornit Digital Printers exhibits extremely high quality exceeding the requirements of a top quality printer.
What Are Some Of The Best Features Of Kornit Digital Printers
All of the Kornit T Shirt printers share some fantastic features that make them a great choice for any business.
Every single one of the models can run 24 hours a day, 7 days a week, so even if you have a huge order to get through you will have no problems with these T Shirt printers.
Kornit manufacture the ink for their printers themselves, it is their own brand which is called 'Neo Pigment™ Ink'.

This ink passes every test that ink has to go through, massively exceeding the requirements in most cases.
The fact that a high quality ink is manufactured specifically for the printer means that the quality you can expect is extremely high.
Kornit Digital Printers are a top quality T Shirt printer, with some fantastic features. They are suitable for almost any business that needs T Shirt printing.
Interested In These Printers? – Contact the Dealer Directly
Want To Learn More About DTG Printers?