Epson Surecolor Range: SC-F2000 | SC-F2160 | SC-F3000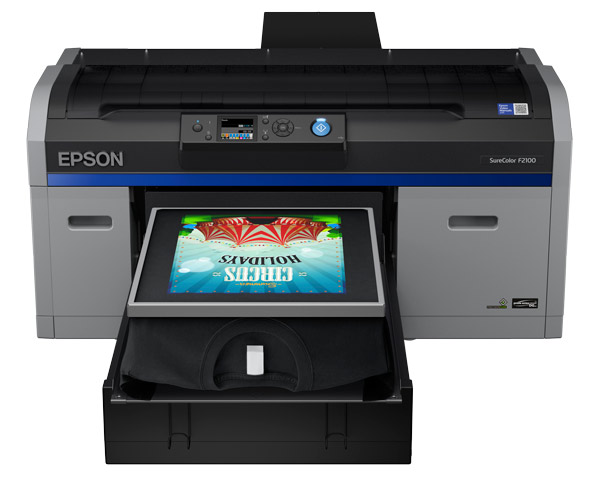 For anyone in the garment printing business (or about to start), how do you take your shop from a hobby (or an idea) to the next level, and make a larger investment that moves your business in the right direction.
I guess, the most important question you should ask is "what kind of equipment do you need to get there?"
There are a variety of choices for digital garment printing, but today we're going to look specifically at the Epson SureColor SC-F2160 – DTG Printer.
Why Own an Epson F2160?
Most direct-to-garment (DTG) digital printers have a number of convenient features and this Epson model has fortified them to make this a solid printer to consider.
According to Epson, the SC-F2160 has improved on previous models and is now designed for a much faster production time, greater reliability and less down-time for routine maintenance.
The reason for this is the new Epson's PrecisionCore TFP printhead. It is a more robust piece of hardware that prints twice as fast as the previous F2000 models. Allowing it to print both white and colour in a single pass.
The Ink System
When using Epson's UltraChrome DB ink technology, shirts printed with the F2160 offered more vibrancy and print durability that ages as well as any silk screen print.
However the flip-side to this is, these prints did fell a little to plasticy for our liking. Customer do like a softer hand feel in most cases. Please do your own testing.
TIP: Try playing with the ink settings to reduce the amount of white ink used, they seem to overdo-it in our opinion. Company owned ink are usually heavily overpriced (a good source of additional revenue), so any ink saving is going to help "you" in the long run. Or, you can try using a third party rip software like "cbreeze".
The ink was developed exclusively for the F2100 line. In the Highlight White Ink Mode allows for simultaneous printing of white and colour inks on the same colour pass. This allows for greater image quality, higher speed production and obviously, greater efficiency.
The Epson SureColor SC-F2160 also has a Light Garment Mode for consistent print quality at speeds up to two-times faster. On some test these had a better hand feel then when we use the regular white ink setting.
As a side note, I know one operator who almost exclusively focuses on designs printed on white garments. The resulting cost savings when using a DTG printer can be significant by greatly reducing the replacement frequency for white ink cartridges. That's a genius business move if it works for you!
Printing Stations

The Epson SC-F2160 DTG comes standard with a medium platen, measuring 14" x 16", (~35cm x 40cm) with additional sizes from extra small to large available as accessory options.
There's also a platen for shirt sleeves. The platen is designed as a quick load model, which can reduce time other models might require to set the platen, with no worries about the image bleeding through to the next layer of material.
Additionally the platens have two different arrows allowing for easy centring and alignment of garments, which is a good feature.
Of course, all this productivity comes with some considerations. The price is not inexpensive, but if you are struggling to push orders out the door in a timely manner without sacrificing quality, this could work out to be the investment for you.
Operating Environment
You will need a proper environment for this piece of technologically advanced equipment to operate. According to Epson's specs, the footprint of the machine measures 99cmW x 124cmD x 51cmH.
To maintain ideal operating conditions (and stay within the terms of Epson's one-year warranty), you'll need to keep the surrounding temperature between 10 and 35 degrees (C), and humidity levels between 20 and 80 percent.
Like What You're Reading?
The printer weighs a little over 82kg (without ink), so keep in mind that it is compact for what it does but is not necessarily portable.

Maintenance and Cleaning
Maintenance is absolutely vital to keep any DTG model as a workhorse for your business. The Epson SC-F2160 has made this process a little easier with an integrated self-cleaning system. This is done by a fabric wiper and in-line cleaning cartridge that perform daily maintenance as preventative measures to reduce any down time.
We always recommend any DTG owner have a Consistent Shut-down Routine for the end of the work day.
TIP: Make sure the capping station and the spit trays are nice and clean at the end of each day. Then run the Epson's "tube wash" routine. Then you will be all set for the next day. Issue free! Fingers crossed.
Epson Tech-Support
Epson tech-support is available in online articles and videos, plus toll-free help available Mondays through Fridays from 6:00 a.m. to 6:00 p.m., Pacific time.
A one-year warranty is included, but keep in mind that you must use Epson-brand ink cartridges or risk voiding your warranty. (Some brands are compatible to Epson, but best avoided until the warranty period lapses.)
Epson's UltraChrome DG Ink is also certified by ECO PASSPORT, a system that ensures a textile chemical supplier has demonstrated that their product can be used in sustainable textile production.
Final Thoughts
So, is the Epson SC-F2160 DTG the right direct-to-garment printer for your shop? The answer depends on your volume and output. First, do you have the space and the right environment to dedicate to the technology?
If you're operating out of limited space already, you'll need to find to expand in a way that supports the SC-F2160. If you're producing simple designs at massive quantities, some of the features in this model may not make a noticeable impact on your production time or costs.
However, if you are a shop focusing on smaller orders of 20 to 50 shirts per design, are known for your graphics and detailed artwork, and are searching for a more reliable and efficient way to get your products to market, the Epson SureColor SC-F2160 (at about $22K) is worth some serious consideration.
Note: The final cost of the machine is not just the printer cost itself, but you will have to factor in, extra ink, a maintenance kit, consumable pre-treatment, a pre-treatment machine. Then to top it off you will need a good computer to run it all with.
If this printer sounds like the machine you've been looking for to take your shop to the next level, fill in the form below to get more information and talk to a Epson SureColor SC-F2160 dealer.
Contact an Epson Dealer

Want To Learn More About DTG Printers?