Epson Surecolor Range: SC-F2000 | SC-F2160 | SC-F3000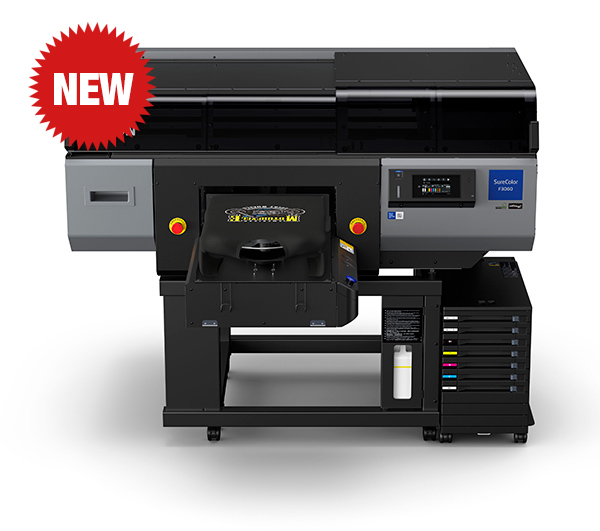 Looking for a quality direct-to-garment (DTG) printer to add to your business inventory?
While there are certainly more than a few different brands on the market, one of the newest to and most popular is the Epson SureColor SC-F3000 DTG Printer.
Touted as the inkjet giant's first industrial model, this unit is ideal for large and mid-size print shops that want consistency and, above all else, quality.
Keep reading to learn more in this Epson SureColor F3000 DTG review.
What is the Epson SureColor SC-F3000 DTG Printer?
Before we can discuss whether it is worth your business budget to add one of these units to your line, we have to talk about what this printer is and who it is for.
The Printer is designed to offer t-shirt designers and print manufacturers the flexibility to create intricate designs without the hassle associated with other methods of textile printing.
In most cases, those who purchase this printer are generally high-end production shops with a large required output.
That said, this is not a unit suitable for small designers or those trying to simply print a few shirts out of their garage to put up on an eCommerce website. With a $60K plus price tag, make sure your needs are appropriate before making the investment.
Simply put, the Epson SureColor series is designed to be professional grade, so it is important to keep that in mind while reading the rest of this SureColor F3000 DTG review.
If you're a professional shop looking for an industrial printer that can speedily put out a full-colour printed t-shirt with a high quality aesthetic in under a minute, you've got the right one.

What Are a Few of the Top Benefits of the F3000 DTG Printer?
Part of why so many printing companies are excited about the F3000 hitting the market has to do with the numerous features available.
One of the biggest benefits to the Epson SureColor SC-F3000 DTG Printer is that it includes extra large, print tanks that help minimise waste and improve productivity.
As a business owner, you don't want to be in a position where you're constantly running out of ink in the middle of the day and the Epson's bulk ink system keeps this from happening more easily than on any other mode on the market.
Further, dual 2.6-inch print heads feature over 14,000 nozzles for impressive speeds and quality ideal for an industrial setting.
This is Epson's first printer to feature such a high level printing capacity, which is why so many people are excited that it is finally available on the market.
If you're looking for ease of usability, Epson's Garment Creator Software makes it easy to take your idea from the screen to the shirt in a very short period of time.
Are There Any Downsides to This Model Direct-to-Garment Printer?
Like all pieces of technology, there are a few downsides to the SC-F3000. But, these are general issues associated with all types of direct-to-garment printing and not specifically this model.
In order to really see if these items will be an issue for your business, you'll want to know your customer base, most common type of printed item, and average time per shirt to print including set-up.
Like What You're Reading?
For example, the rich colour and time per individual item is not quite as good as one would find with the traditional screen print method.
Generally, the return argument here is that DTG printers are also more versatile, less expensive to run on short batches, and require far less intense set-up time. So, keep that in mind when weighing this as an issue.
Initial cost is also considered a downside to some purchasing their first direct-to-garment printer. The Printer can have a pretty hefty upfront cost to get started.
But, this is true of any similar model on the market, so that doesn't really make it a downside as long as you're prepared for the initial investment.
Finally, most DTG printers are not able to print on polyester or sports shirts due to the low cotton content. For some printing businesses, this alone is a big reason not to choose a model like the SC-F3000.
However, whether or not this is actually an issue for your business will depend on what you're usually trying to print and how it relates to what your clients are looking for.

Final Verdict: Epson SureColor SC-F3000 Direct-to-Garment Printer
So, what's the final verdict? If you're opting for a direct-to-garment printer over traditional screen printing methods, then you'll want to check out the Epson F3000 Printer.
This solid model is easy-to-use, features vibrant inks, and is a great addition to any mid-size or larger printing shop.
Ready to learn more about the SC-F3000 Direct-to-Garment Printer? Please use the form below for further details.

Let us know if you have some experience with this machine, we would love to hear your opinion.
Want To Learn More About DTG Printers?