Polyprint TexJet Range: TexJet1 | ShorTee2 | Echo2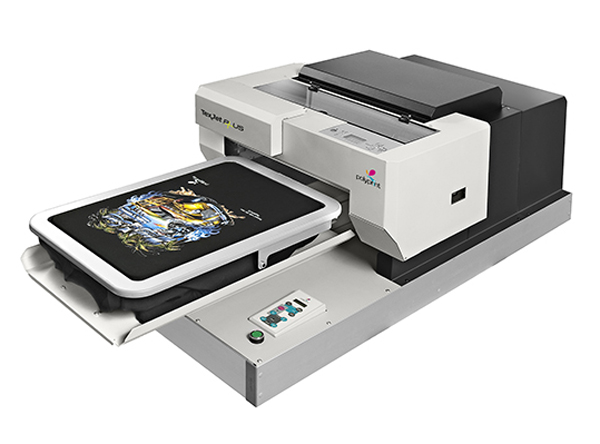 Texjet is manufactured by PolyPrint SA which is a a Greek company. As a DTG garment printer, it is up there among the best Epson based printers on the market.
This printer may no longer in production.
It has has been superseded by newer models.
If you have a second hand machine or you're looking for one.
Check our Used Equipment section
The Printer is simple and easy to use. If it is set up correctly, this printer will guarantee you a good quality print.
The Texjet t shirt printer is set up to enable you to achieve great quality prints results. The ink system uses a pressurised ink cartridge system allowing for even ink distribution at high volume.
The pressurised ink cartridges are refillable for more cost effective operation.
When making use of the white ink system, it also performs well. This is because the ink is kept in a closed ink system, that protects the ink against air bubbles and any dust.
The inbuilt system agitates the white ink which prevents sedimentation which is a common problem with all white in systems.
Polyprint boasts that this printer can stay idle for up to 15 days without any maintenance. Quite a bold statement.
Printing size options for the Texjet printer
The Printer can print up to 42cm x 60cm maximum size and 34cm x 56cm as a standard size. The printer is quite fast, hence it will make your work of printing very easy.
PolyPrint has also equipped the Texjet with extra optional printing tables, like sleeve and kids sizes, and other shapes for polos, which can help you achieve greater sizes of customised print work.
Mini Platen – kids size is (28cm x 32cm)
Polo has button section cut out (40cm x 50cm)
Sleeve platens are super small at (15cm x 30cm)
Universal size platen (33cm x 45cm)
Maximum platen size is (42cm x 60cm)
What is the TexJet Production Speeds?
If high production output is required, to produce a lot of prints quickly. Then the high speed mode is available. This setting will allow you print up to 60 white t-shirts per hour and up to 20 dark t-shirts per hour.
Although high speed mode does compromise on quality to achieve this faster result.
The Texjet can be set to a high quality mode. This print option, can produce up to 40 white t-shirts in an hour, and for dark t-shirts it can print up to 15 t-shirts per hour.
This is just a guide as print speeds will vary dramatically. The determining factors, are ink coverage, print resolution, the print mode setting, and the size of the image.
Note: The factory recommended speed tests sounds really great. However you need to remember, these numbers are never accurate. Nor do they actually reflect what happens in real life production. We always recommend you do your own 'speed-tests' at the dealers showroom or at a trade show.
If you own one of these printers, or you have any feedback on this print speed, leave a message here.
Like What You're Reading?
What are the ink costs?
Like all DTG printers, the ink costs will vary according to the image colour density and ink coverage, print resolution, the print mode setting, and the size of the image.

So How Much Is This Printer?
This distributor has a special price for our readers. Use the form below to get in contact.
The Start-up package includes: Polyprint Texjet T-Shirt printer, Texjet RIP software, 9 x 160ml refillable ink cartridges, 250ml each of CMYK and cleaning solution,1 x ltr white ink,1 x ltr pre-coat solution,1 x Wagner spray gun,1 x box of protection paper, and a Heat press
Total – $23,995.00 + GST
Delivery , installation, and training may need to be charged depending on your location.

Tex Jet DTG printer is based on Epson DX5 print heads
The Epson setup is very versatile, where it allows the users to enjoy great convenience when working with the printer.
The 4 wheel transport system used in the printer allows it to move heavier loads when printing, while making the work of printing large sizes t-shirts very easy.
The Polyprint control board allows the printer to interact with Epson main board without any interference of the normal working of an Epson printer.
The PF motor encoder available enables the printer to achieve great precision when positioning the printing tray.
The 1MB flash onboard memory is available makes the printer easy to upgrade because it can allow remote connection via internet connection.
The ink tubes are kept in a position where they are untouched which allows the printer to produce high quality print outs.

In conclusion
As far as an Epson based printer is concerned, it covers all the bases that your average DTG printer user will ever need.
It has a reasonable print speed.
An easy to load and unload the t-shirt platen
Platens come in lots of handy sizes
Uses a bulk in system, but has the efficiency of pressurised cartridges
Minimal Maintenance, and a long idle time.
If you have some further insights to offer, or you have any feedback on this printer, leave a message here.
Interested In This Printer? – Contact the Dealer Directly

Want To Learn More About DTG Printers?