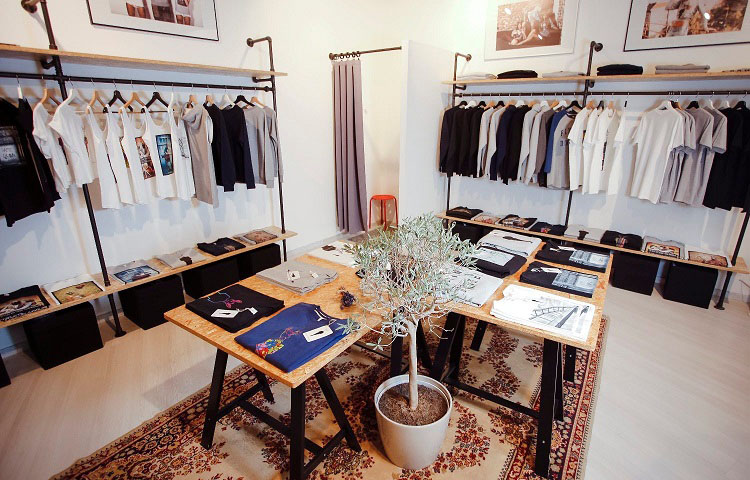 Your customers want gear that looks cool and feels great. As well as a quality material that will hold a design well after printing. The most popular options are cotton, polyester, and poly-cotton blends.
Each has something different to offer in terms of quality, fabric consistency, weight, and transparency. All of which have to be weighed up when choosing the right material for the job.
T-Shirt Fabric Terms
In this guide, we will touch on the different terms use when referring to fabrics for t-shirts.
Fabric weight
Fabric is measured in weight and expressed as Grams per Square Meter ( or GSM). You will see this in the product description and is an indication of how heavy or light the fabric is. The t-shirts "weight" (material thickness) is refereed to as; lightweight, medium-weight, and heavy-weight fabrics.
For cotton t-shirt fabrics, it's something like this:
Lightweight (120-150GSM)
Medium-weight (160-180GSM)
And heavy-weight (190GSM+)
Fabric Drape
The drape determines the fabric flow. Stiff fabrics have a less pronounced drape, and a fluid one has a smooth-flowing drape.
The drape is often used in the place of weight, but these are two different things entirely. Both these factors will affect how a garment looks.
Fabric Stretch
Stretch is how much and how far your fabric stretches. Fabrics come with different elasticity. Textile fibres can bounce back after a stretch.
The fabric stretch along with the pattern determines how the t-shirt fits the body and sits against it.
T-Shirt Fabrics Types
When assessing a fabric, you must know how to tell the difference between a fine quality fabric from low-quality. And how suitable it is for the purpose of the client.
In the next section, we will go through the different fabrics for t-shirts so you can confidently pick the best one for your needs.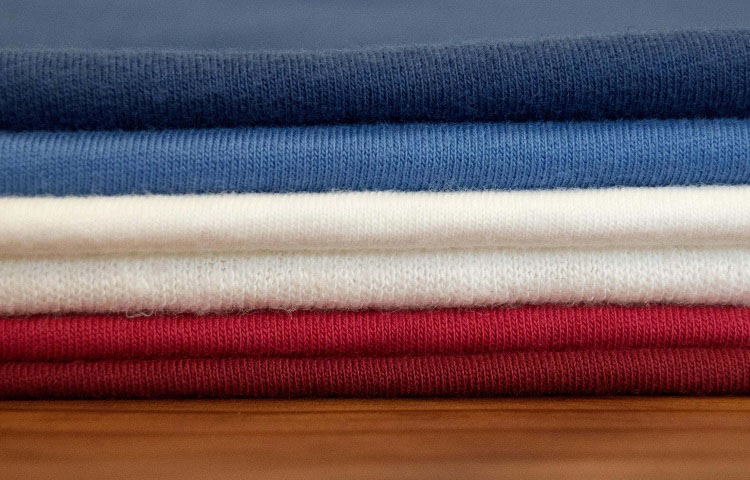 Cotton
Cotton is a versatile and popular choice for t-shirt fabric. It's light to wear and cool in summer. It comes in any number of styles depending on how the yarn is spun. Manufactures use different process to produce different types of fabric's. All of them are suitable for printing on.
Here are the different styles that are made with cotton.
100% Cotton
This is the standard knitted 100% cotton t-shirt fabric available in different knits and yarn weights.
Pros
Perfect material for printing on, including screen printing, DTG, and heat transfer.
Cotton is an affordable material that keeps prices low – while still offering a quality garment.
The feel of cotton is soft but breathable – a good choice for both warmer climates.
Cons
Not all cotton garments are created equally. The process used to source and prepare the cotton can fluctuate in price and quality.
Cotton may shrink faster when compared to polyester, and might not hold its shape as long.
100% Cotton – Combed Cotton
What is it? Combed cotton is considered a premium cotton variety. It's made by arranging the fibres to create a high-quality yarn. This is the best fabric for printing with DTG Digital Printing
Pros:
Combed cotton has a premium feel compared to a regular shirt. You can charge a premium for them.
Although softer, combed cotton is more durable and should stand the test of time with minimal fading.
Cons:
The process the cotton goes through makes it more expensive. Not suitable for budget customers.
Combed cotton is more prone to shrinking if washed in hot water or exposure to a tumble tryer.
100% Cotton – Ring-Spun Cotton
What is it: Ringspun cotton is another natural fibre that is able to take on most forms of printing. This type of cotton undergoes frequent spinning and twisting so it's woven more tightly, but with softer and thinner cotton strands.
Pros
Softer and more breathable, more luxurious hand feel
The way it is made makes it a more durable material that is resistant to stains
Cons
The additional spinning process adds more to the overall price
Its not very heat tolerant – can lead to shrinking or damaging
Cold water and line drying are the only ways to keep it clean
Organic Cotton
Organic cotton is produced from cotton grown with minimal fertilisers and pesticides. It is generally softer and more comfortable. But it comes at a price.
Linen
Linen is a fabric worth looking into. It's nice to wear during summers because it breathes well and has cooling qualities. It is an environmentally friendly option as it's an all natural fabric made from the flax plant.
The only downside to linens is they wrinkle easily. The fabric is not very elastic, so you will want to iron it before wearing a shirt made for it.
The fabric weave is also a bit wild. There contain slubs or random knots – they add to the integrity of the fibre – but can appear rough. I guess some customers may want a more eco effect. 
Linen/Cotton
A fabric made of a linen and cotton combination is a great option. Typically used it for tea towels. The finish is a t-shirt that is durable, cool, and soft. Resulting in a softer feel when compared to pure linen. 
Linen typically is more expensive than cotton. This is because unlike cotton, the threads tend to break during the weaving process. This slows down the manufacturing process substantially.
Like What You're Reading?
Polyester
Polyester is 100% synthetic fabric. A large range of product are made from polyester, but it's mostly used make sports apparel that is printed all over the garment
100% Polyester
What is it: Polyester is a man-made fibre that's made from petroleum-based products. The overall feel of the material is soft. It's popular choice in the garment industry for sublimation printing.
Pros
Polyester is soft and a durable material
Less susceptible to stains
You don't have to iron it
Quick drying
Keep its shape and won't shrink or fade
You can wash without any special care
Cons
Screen Printing on polyester is harder than on cotton
Many printing inks don't make the design pop as much
Is not elastic and will not stretch to much
Poly-Cotton Blend
What is it: A poly-cotton blend combines the synthetic fabric polyester with the natural fibres of cotton. The fabric is made with a yarn of cotton and yarn of polyester, spun together.
Pros
A good level of colour retention
No extreme care instructions
Won't shrink as easily as pure cotton.
Cons
They are less flame retardant than other materials.
You'll need to be careful if you expose to excessive heat.
Tri-Blend
What is it: A tri-blend fabric is made of three materials such as 50% polyester combined with 25% cotton and 25% rayon.
Pros
The feel of a tri-blend shirt is soft and it drapes easily over the body
It's a breathable fabric so you can wear it in all climates
Cons
In terms of quality, a tri-blend shirt isn't as long-lasting or durable
The softness of these shirts might start to wear down which leads to transparency
After some time and regular washing, the shirt might become see-through
Adding just a small amount of synthetic fibres improves the fit of an otherwise natural fabric like cotton.
Polyester (and even Lycra or spandex) mix amazingly well with cotton or even wool to add stretch and ensure that the garment holds shape even after washing.
Lycra
Lycra, like polyester, is commonly found in athletic wear. It is because it allows for fluid motion and flexibility, which is needed during athletic performances.
Lycra is a brand name for the Spandex material. Spandex is an additive used in t-shirts used to give them more give.
Rayon
Rayon is another one to add to the synthetics. Or maybe semi-synthetic is a more accurate as it has a natural base. It's a breathable cellulose fabric that is made from artificial fibre. It is made to mimic the feel of silk, linen, or cotton.
Created from trees, cotton, plants, or wood pulp, it is biodegradable and a wonderful alternative to silk as it costs less.
Again, this is found in athletic t-shirts or sports T-shirts. This silky smooth fabric drapes easily, dyes well, and is super-absorbent. However, you cannot wear it for long periods as it wrinkles easily. However, it provides great air circulation.
Which one to use at your store?
So which fibre to use… natural or synthetic? That is the question. There is no right or wrong answer it's just what's right for you and your clients. 
Synthetics
Polyester has a bad reputation in general. Especially among people who are prone to sweat a lot, as it tends to feel hotter. However it has it's positives. It does offer more breath-ability than cotton and it will dry faster with moisture wicking technology.
Natural
Natural fabrics are a popular choice. The fibres are extracted from natural sources and then woven into a garment. As we have just read, not all fabrics are created equally. Understanding how they are made helps you determine its quality.
A t-shirt with good material but poor construction will lack quality and may not last as long.
When it comes to elasticity and impermeability, synthetic fabrics tends to outperform natural fabrics.
Some of the common blends are cotton-polyester and cotton-linen blends.
Compromise Required
The type of printing technology we use is going to play a leading role in deciding if a fabric is suitable or not. It is because natural fabrics absorb liquids more effectively while synthetic ones repel water.
This is why some compromise is required. This will depend on your printing technology as to what fibres will work for you.

Conclusion To Our T-Shirt Fabric Guide
A cotton is an excellent option for printing t-shirts, but it is more expensive to produce, needs more water and land, and is prone to damage. So one day we need to find a better way.
Synthetics where created as a cost-cutting measure, in some cases the quality may not be the best. But synthetics do add to improved breathability and other functional aspects like stretchability, elasticity, lightness, and a fast-drying capability. However they don't print very well with some print methods.
There is no "one fabric fits all." You should select one for your t-shirts based on your customers taste, style, preference, and design. Then assess the design and find the best print method for those specific requirements.
Polyester (Screen printing, Dye Sublimation, Digital Transfers, Supacolour, Ultracolour)
Dark Polyester (Subblock used on all methods)
Cotton (Screen printing, Digital Transfers, DTG Digital Printing, Supacolour, Ultracolour)
Blends with High Cotton (Screen printing, Digital Transfers, DTG Digital Printing, Supacolour, Ultracolour)
Blends with High Polyester (Screen printing, Digital Transfers, Supacolour, Ultracolour)
To put it simply. You will need to choose the right garment based on the design being printed and the customers requirements. Compromise will be required.