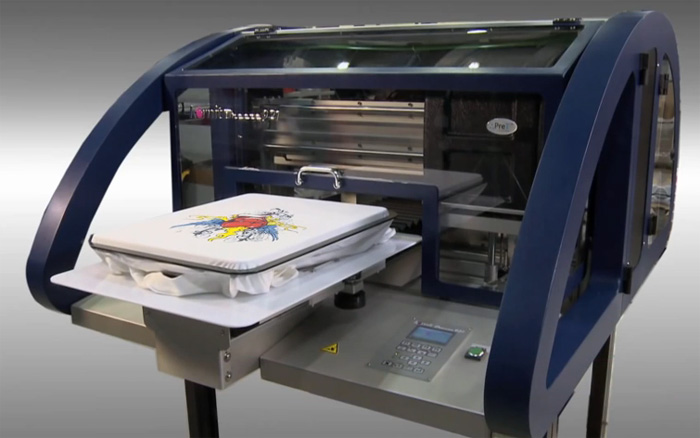 The Breeze 921 is Kornit 's answer to the entry-level DTG printing market.
It's reasonably compact (compared to the rest of its range) and engineered specifically for small and medium-sized businesses.
It combines all the technology of Kornit's industrial machines in one much smaller unit, so that start-up entrepreneurs and those who want to expand their embroidery or screen printing business can make use of Kornit's market leading innovations.
Kornit says "..it's Breeze product line is the perfect combination of high quality, budget, and fast return of investment."
Who is Kornit?
For those of you who are new to printing t-shirts, Kornit is one of the leading DTG (Direct to Garment) Printer manufacturers in the world.
Founded in 2003, backed by years of extensive research in the industry of digital printing, they introduced their first 2 products in 2005, namely the Kornit Storm and the Kornit Thunder.
The company has offices and distributors in the United States, Europe, and the Asia Pacific (this includes Australia). They provide accessible and easy customer service to all their customers around the world.
Kornit develops, manufactures, and sells both industrial and commercial digital printing machines for the garment and textile industries using high end technology with revolutionary solutions.
They are credited for being the first company in the world to offer printing machines that can print white ink on dark shirts, and their revolutionary Neo-Pigment process provides permanent inks that produce high quality digital prints on any type of cloth.
This ground-breaking technology was developed by there in-house chemistry department. Since then, Kornit has continuously pushed the standards of digital printing solutions to the next level.
What kind of buyer would it suite?
As we mentioned before, Kornit believes this to be an entry level printer, though for the price, it maybe a good entry for an existing print house looking to expand into DTG, rather that a new brand new startup.
It also requires less space than the other industrial printers in the range, so smaller shops can have this machine in a retail store without it taking so much space.
For anyone who wants to get into the business of custom digital printing, the Breeze is the perfect machine to do just that.
For businesses owners who do screen printing or embroidery, the Kornit Breeze is the perfect way to venture into the digital printing business.
Like What You're Reading?
What type of ink does it use?
The breeze uses the company's on ink formula called Neo-Pigment Ink. The printer uses white ink and the 4 process colours, cyan, magenta, yellow and black.
The company says the inks are Low Cost, boasting the lowest total cost of ownership among all the other Kornit machines. This is also means it has the fastest ROI or Return on Investment.
Kornit inks have received the Oeko-Tex 100 certification for Eco-friendly products that provides safe applications for infant wear.
They adhere to the standards of the Global Organic Textile (GOTC) and that of the American Assoc. of Textile Chemists and Colorists.
What print heads does it use?
The Kornit Breeze uses Spectra Piezo Electric Print Heads. There are 6 heads with 256 nozzles per head, which uses 5 colours.
Print head height is adjustable, which allows you to print on garments that have zippers, buttons, or any surface that are raised.
The Printing Resolution is minimal, but does the job, with up to a Maximum of 600 x 600 DPI. This is where speed will always compromise printing quality.
What is Integrated Automated Pretreatment?
This feature is what differentiates the Kornit machines for the rest of the field. You don't have to pre-treat your garments with this machine, as it will do it for you.
This means you won't have to wait, which removes the need for separate pre-handling. Just set-it up and it's good to go.
Kornit uses a wet on wet pre-treatment technology. The only downside to this technology is that the pre-treatment is REQUIRED to bond the inks.
So when decorating white garments, printing without pre-treatment is NOT an option.
Let us know if you have some experience with this machine, we would love to hear your opinion.
What is web to print technology?
The machine comes with its own RIP software so it's very easy to use and operate. All you need to do is connect the machine to a laptop or desktop and it's ready to go.
Image Data types include TIFF, PSD, PNG, JPEG, TGA
What type of material will it print onto?
The Kornit Breeze Prints on Multiple Fabric Types. While many other machines can only print on cotton, the Breeze allows you to print on many substrates. Fabrics including Cotton, Polyester, Cotton-polyester blends, Linen, Leather, Lycra, Wool and Silk.
How fast does it print?
The breeze is noted for Fast Production. It uses One-pass white and CMYK that speeds up print time.
The company states, it has the capacity to print a total of 40 A4 size full-colored designs on white fabric and 25 prints on dark fabrics per hour- that's about 2 minutes for a white shirt and 3 minutes for a dark shirt.
Note: The factory recommended speed tests sounds really great. However you need to remember, these numbers are never accurate. Nor do they actually reflect what happens in real life production. We always recommend you do your own 'speed-tests' at the dealers showroom or at a trade show.
It must be noted that this also include the pre-treatment time.
We ran our own test, on the largest size (33cm x 43cm), white t-shirt print, which took about 2 min 30sec.
This included loading and unloading. We will load the video on Youtube shortly.
What is the maximum print size?
Printing Area Up to 35cm x 45 cm – This is not the biggest print area around, but it is certainly big enough to cover most customer needs.
Other Specifications
Printer Size Dimensions (excludes base) – 114cm x 150cm x 70 cm
Printer Total Weight (excludes base) – 210 kg
Power Requirements > 230/110 VAC, 50/60 Hz, 1 phase, W+N+PE
Operating System > Windows XP, Windows 7, Windows 8
Operating Conditions Temperature: 18C-30C / 64.4F-86F, Humidity: 45%-75% , non-condensing
Shut-down Conditions > 5C – 35C (41F – 95F)

Interested In These Printers? – Contact the Dealer Directly
To enquire about the cost price and to arrange a demonstration, contact the dealer by using the form below.
Want To Learn More About DTG Printers?