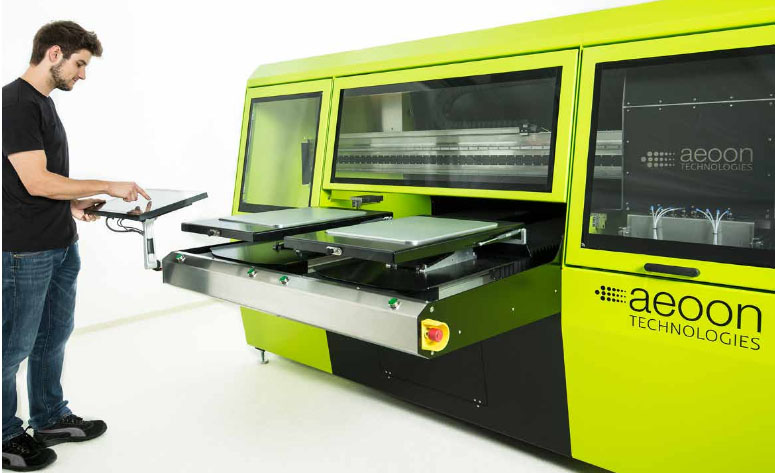 The Aeoon Kyo Compact DTG was designed and launched by the Aeoon Company as a mid level product, first introduced to the printing industry in 2016.
We say this is a mid level unit, but don't be fool. This machine is a beast, and in itself would suit any high production business. Although it is mid level when compared to the Link Series.
This machine is also perfect for those clients who have limited physical spaces, thus, pleasing many businesses with restricted working areas.
While the printer is smaller, its quality is as good as any other Aeoon Kyo Series printer. It is fast, it is durable and its output is brilliant. Incredible!!!
Yes, it is smaller, but also very efficient!
It can print up to 950 T-Shirts per hour (A4 print size), depending not only on resolution and image, but also on how fast you can feed the machine!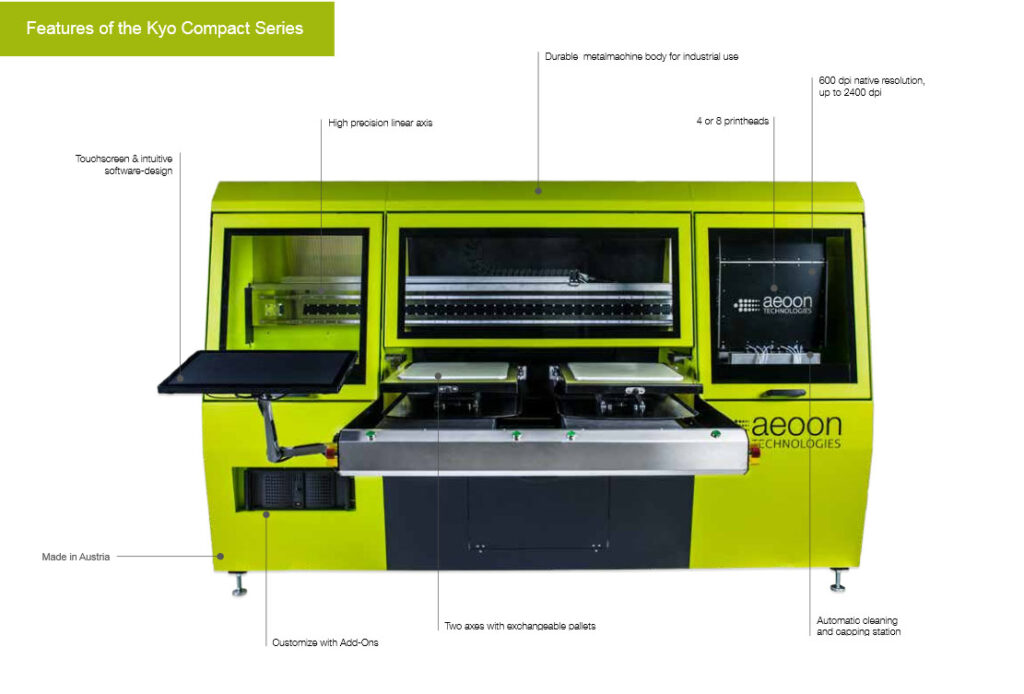 Features And Benefits
The Aeroon Kyo Compact DTG offers many benefits, such as:
Direct to garment printing
It can print 2 shirts on different pallets at the same time, saving you time. The pallets are interchangeable
It can also print different images on each shirt
It is fast and affordable to operate, as it does not require masters, stencils or plates
It is easy to load
Aeoon touch-screen software is included, allowing you to use your preferred design
Colours are bright and durable. Their brightness is striking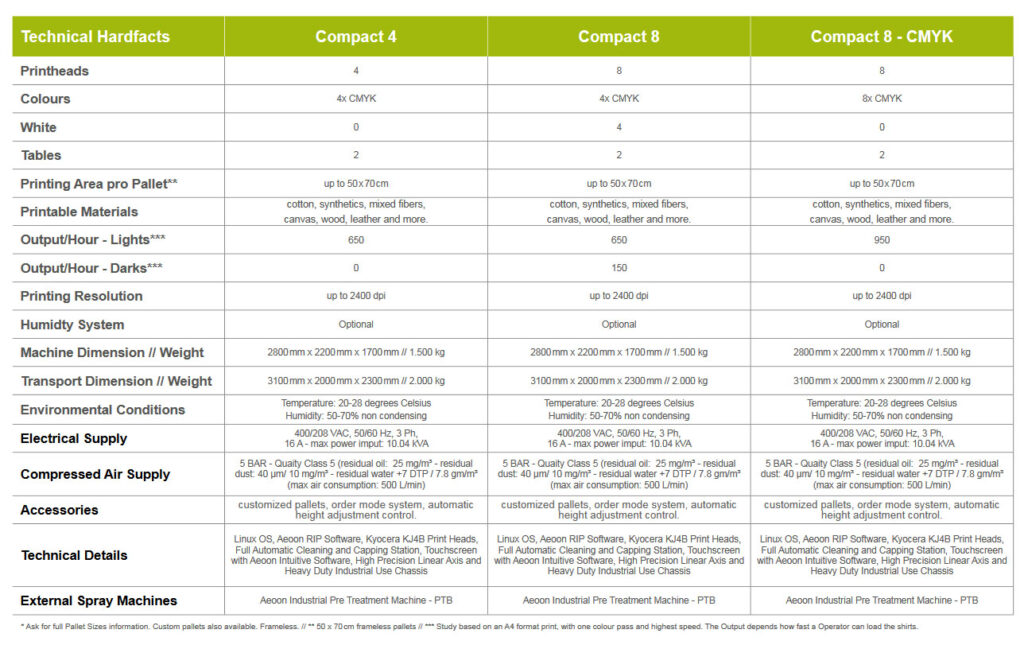 The Print heads
The Aeoon Kyo Compact Series uses Kyocera KJ4B print heads. They are available in 4 or 8 head configurations.
You can start with 4 print heads and, as your business grows, you can upgrade to 8 print heads. The only items that cannot be upgraded in the Aeoon Series are the linear motor tables axes.
Each print head has 2558 little noozles. This gives the machine the ability to print at the resolution of 2400 DPI (Dot Per Inch).
More pallets of different dimensions are available for special prints, such as bags or polo shirts.

The Ink System
The only inks used by the Aeoon Company are Oeko-Tex and GOTS (Global Standards) certified, making them environmentally friendly, as they conform to the ecological standards.
Ink drops up to 40.000/sec
The Aeoon Kyo Compact DTG colours offer excellent results on white, black and coloured materials, as the machine automatically generates a white base.
The same inks can be used on different materials, such as viscose, cotton, lycra, mixed fibre, canvas, leather, etc. So not only saving ink usage, but also reducing your costs.
Different inks for other uses are provided by the company, such as inks reactive and UV.

How Big Is It?
The Aeoon Compact printer is small and elegant.
It measures 280x220x170cm and its weight is 1500kg.
Very suitable for your small business!
Operating Conditions
A temperature of 20-28 degrees Celcius should be maintained. The temperature controlled ink compartment is optional.
Humidity should be between 50-70% non condensing.
Also, pressure of 65% should be maintained to avoid nozzle failure.
Humidity systems are optional, but they would be a good investment when you buy the Aeoon Kyo Compact DTG printer, as they lenghten the duration of the printer's lifespan.

Maintenance
There is no maintenance, as the printer has fully automatic cleaning and capping station.
A Nano-coated machine body for easy cleaning is available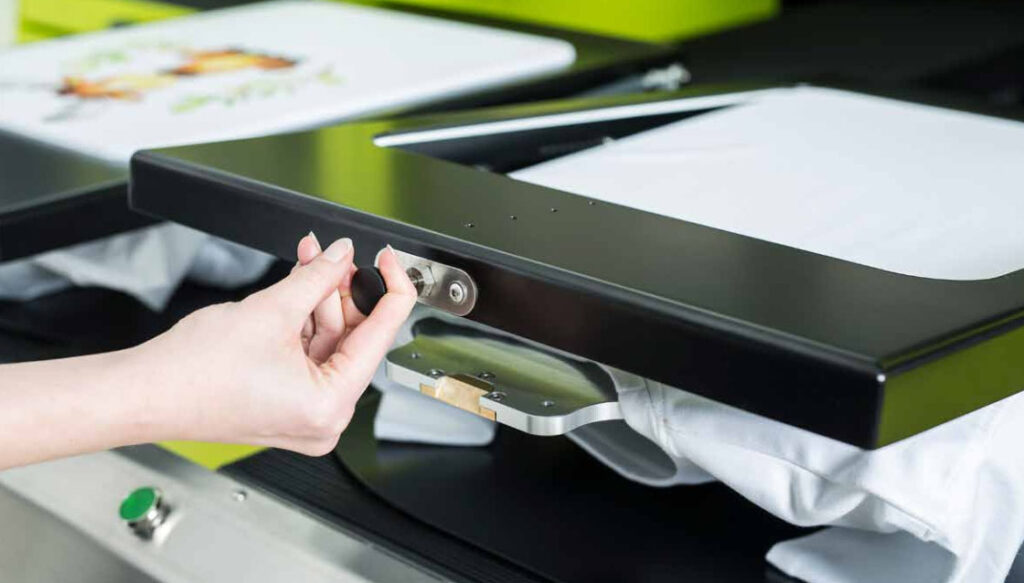 Standard Platen/Print Sizes
The platen system is held by a machined steel beam, contributing to its durability.
The printing size is 40 x 50cm or 50 x 70cm frameless/2pallets, which is smaller than the Aeoon Kyo Link Series at 92 x 98cm/3pallets.
Start Time
Again, as with the Aeoon Kyo Link Series, I was unable to obtain the start up time for this review, but, as per the Aeoon Kyo Link Series, the Aeoon Compact Series prints fast.
Like What You're Reading?
Technical Support
Advise on the right number of print heads suitable for your business can be obtained before purchasing the Aeoon Compact. Support is also available as your business grows. Any information you may want is provided by the "sales team".
Conclusion
The Aeoon Kyo Compact Series will provides you with a business more efficient not only with financial gains, but with minimum effort, expenses and time.
You will feel good to have a fast and reliable machine to work with. One that offers you a professionally and profitable run business.
Plus, it will satisfy your customers' demands.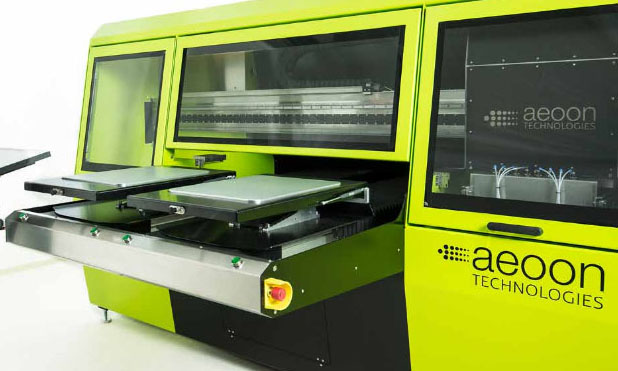 Want To Learn More About DTG Printers?

Contact the Dealer