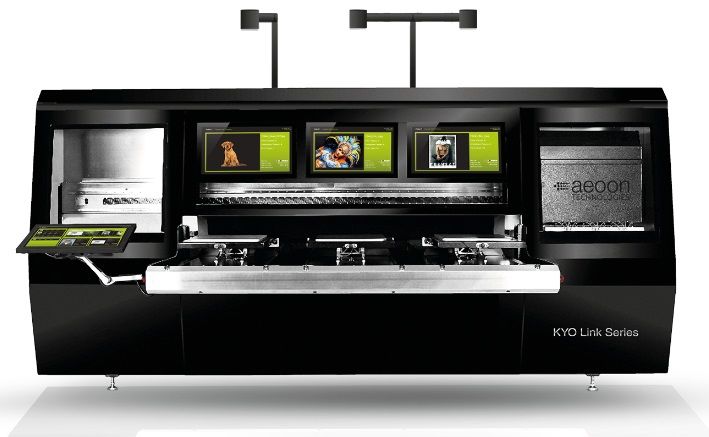 The Aeoon Kyo Link Series DTG Printer is a very impressive machine. I am very excited about this machines massive production capacity.
In the past, this printing machine could only print for small production houses, but now thanks to the company development, which was officially launched in 2011 in Austria by Aeoon Technologies, it has the capacity to mass print on a truly amazing scale.
According to the company it is "digital textile production on an industrial scale." They're not kidding around when they say that.
It's a complete game changer. A new high end tool, for the garment decoration industry, that can now print up to 1280 shirts per hour.
And it is easy to operate. This is insane.
If you have a boat load of money and want a high production work horse to create accurate results and quality images, then the Aeoon Kyo Link Series is the printing machine for you.
It offers many benefits, such as:
It provides a super fast print time that will satisfy any busy production house. At the moment, it is the fastest machine available.
The Aeoon Kyo Link Series is able to print 3 shirts at the same time and with different images on each shirt.
It is quick and cheap to operate, as it does not require masters, stencils and plates like a traditional screen print process.
It is incredible how easy it is to load. You can just place the item in the pallet and quickly print!
Touch screen Aeroon software included
Colours are amazingly vibrant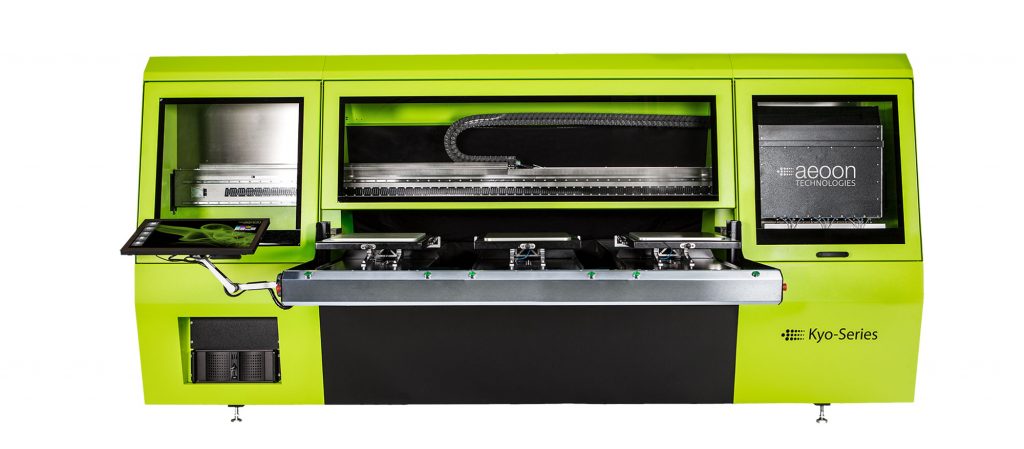 Kyo Series shown: See Kyo Compact Series here
The Print Heads
The KYO link series uses Kyocera KJ4B print heads which are available in 4, 8 or 12 head configurations.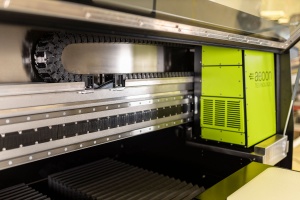 You can start with 4 print heads, knowing that additional ones can be installed as your business grows. The only items that cannot be upgraded in the Aeoon Series are the linear motor table axes.
Each print head has 2558 tiny little nozzles, giving it the ability to print at the highest resolution of 2400 DPI (Dot Per Inch).
The Ink System
The Aeoon inks are Oeko-Tex and Gots certified, quality making them environmentally safe. I'm sure this will please you if you're nature friendly.
Ink drops up to 40.000/ sec
Drying time is under 4mins, as the machine prints on dry material.
The Aeoon Kyo Link Series can use from 4 to 12 colours. This means bright colours on black , white or coloured materials, as the machine automatically generates a white base.
The same ink can be used for a variety of materials, such as cotton, polyester, lycra, viscose, mixed fibres, etc. So, not only you save on ink, but also you reduce your expenses.
How Big Is It?
The machine is also industrial sized. Huge. The printer is the biggest of the Aeroon products. Its weight is 2000kg and its size is 4345x2850x2616mm (434.5x285x261.6cm)
Not quite suitable for the home garage.
Like What You're Reading?
Operating Conditions
The addition of a humidifier when you buy the Aeoon Kyo Link Series printer is a good investment, as it lengthens the duration of the printer's lifespan.
Make sure that a pressure of 65% or more is maintained. This should avoid nozzle failures. Also, humidity should be between 50%-75% non condensing.
Maintenance
Minimum daily maintenance is require, saving you a lot of time, as it has complete automatic cleaning and capping station.
Technicians do provide yearly service for your convenience
Standard Platen/Print Sizes
The 4-2-1 platen system allows you to print any item, such as towel, blankets etc.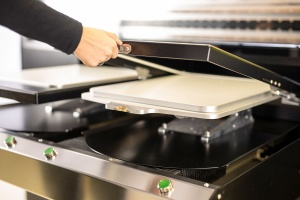 The platen system is held by a machined steel beam, contributing to its durability.
The largest printing size is 92x98cm/3pallets which is larger than the Aeoon Compact Series at 50x70cm/2palletts.
The printer has an accurate positioning feature via a beamer system.
Start Up Time
Sadly, I was unable to get the exact start up time for this review, but I can assure you the machine is fast.
Technical Support
Training is provided by the company while installation of the machine is taking pace.
For any problem, you can contact the company where support will be offered. Information can be obtained before you buy the machine.
Conclusion
The Aeoon Kyo Link Series printing machine is fast, strong, long lasting and offering you financial savings during its use.
But, there is one important issue that I haven't yet mentioned: it is quite expensive to purchase.
Want To Learn More About DTG Printers?

Contact a Dealer