Kornit Range: Breeze | Storm | Atlas | Avalanche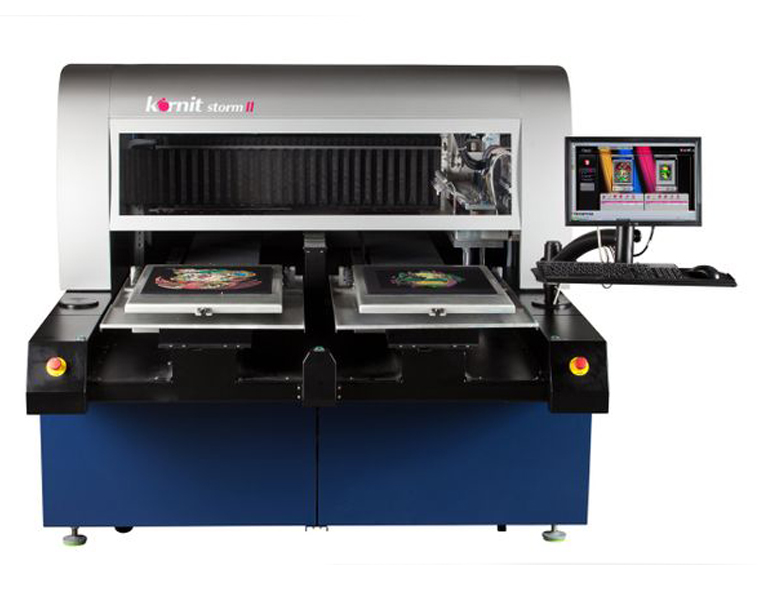 Kornit Digital was founded in 2002 and has become one of the leading Direct to Garment (DTG) Printer company in the world.
Its head office is in Israel and more offices in USA, Europe and Asia. It has customers in over 100 countries, including Australia.
Kornit is believed to be the first company in the world to use permanent inks via their revolutionary Neo-Pigment process that prints white ink on dark shirts.
Kornit Digital has developed and produced various printing machines over the years. Today we are going to talk about the Storm Series, with its incredible dual pallet system for its continuous print production flow.
The Storm Platform
The Kornit Storm II
The Kornit Storm 1000
The Kornit Storm Hexa
The Kornit Storm platform series was originally designed in 2004 in Israel and introduced on the market in 2005.
While the initial investment might seem to be immense, it could be worth it to the right buyer. If you're struggling with two single platen Brother GTX's, it could be considered to a small investment for the great benefits these machines offer.
Is the Storm for YOU ?
The Storm series has proven to be the best selling industrial direct-to-garment digital printer in the market.
Designed specifically for the high-volume production businesses. From existing direct-to-garment businesses looking to upgrade. Through to screen printers who wish to move towards hybrid apparel decoration.
The features that make the Kornit Storm so popular are;
It has the dual pallet set up for non stop production
It allows garment loading while printing
It was designed for 24/7 industrial use
It's economical as it's fast, providing high-volume production
It provides good quality at a low running cost
It has the Kormit (patented) integrated automatic pre-treatment system, also providing high-volume production
It prints on many different materials, both light and dark
It has a degassing system for smooth ink flow, which makes it consistent and reliable
Suitable for a children clothes' pallet
Designed so that only one person needs to operate the machine
The Kornit Storm hex has other benefits, such as:
The Print Heads
The storm base (II) model starts with 8 industrial Spectra Piezo Electric Print Heads and can be upgraded to 12 heads (1000) and 16 heads (Hexa)
These print heads can be adjusted to any height (up to 5cm) and they can print over buttons, zippers, any raised material and even on stitches
There are 256 nozzles per head, with each head using 5 colours (II, 1000) and 7 colours for the Hexa upgrade
It prints on various materials, on any garment size and colour combination
The rate of production is:
(Storm II) Light garments: up to 120 per hour
(Storm II) Dark garments: up to 65 per hour
With the Hexa upgrade the production speed can be increased.
(Storm Hexa) Light garments: up to 170 per hour
(Storm Hexa) Dark garments: up to 85 per hour
Note: The factory recommended speed tests sounds really great. However you need to remember, these numbers are never accurate. Nor do they actually reflect what happens in real life production. We always recommend you do your own 'speed-tests' at the dealers showroom or at a trade show.
*The Kornit Storm II provides a maximum resolution up to 630dpi. Whereas the Storm 1000 model and the Storm Hexa upgrade both print at a higher 1200dpi (Dots-per-inch).
Like What You're Reading?
The Ink System
The ink set is water based Kornit NeoPigment Ink, with 4 ink channels and 4 colours CMYK, plus white configuration
The Kornit Storm II has a bulk ink system supporting 1.5 Litre/50 oz for continuous operation.
However, 4 Litre/135 oz ink containers are available for an upgrade, giving your customers options which will provide you with extra revenue.
The ink is low cost and suitable for all types of materials, such as silk, leather, cotton, polyester and cotton blend, line, denim, wool, Lycra, viscose etc. It is also compatible with ColorGate RIP software, which allows easy colour matching.
The ink is 100% eco – friendly and biodegradable, adhering to strict industrial standard. The ink system of the Kornit Storm II has a 100% sustainable and toxic free process.
Note: All Kornit inks have received the Oeko -Tex 100 approval, as they use products that provide safety application for babies wear. The inks adhere to the standard of the GOTS (Global Organic Textile).
How Big Is It?
This is a great big printing machine. You'll need some space to operate this to full efficiency.
* Dimentions (WxDxH): 290cm x 202cm x 165cm
*Weight: approximaly 1300 Kg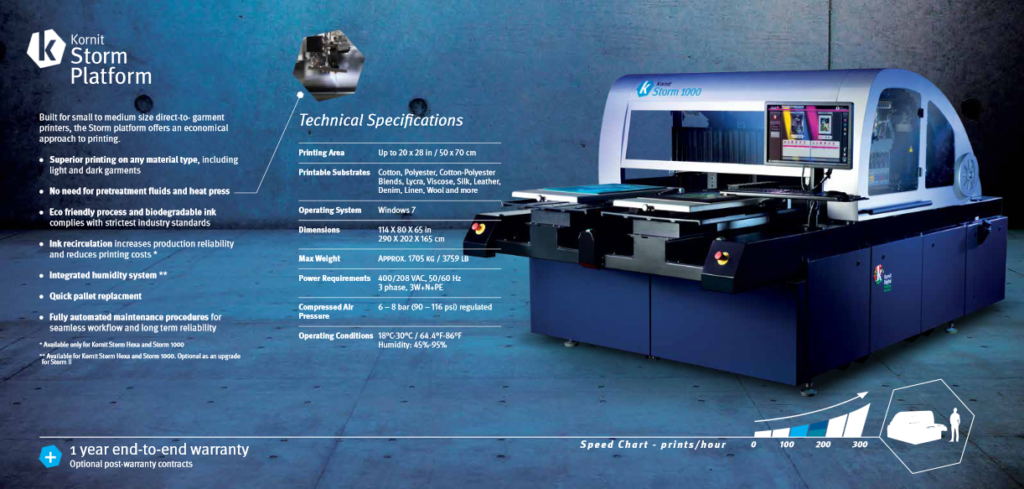 Operating Conditions
Temperature 18C to 30C
Humidity between 45% – 95%. The machine has relative humidity, non condensing.
A Humidity System is optional as an upgrade.
Maintenance
The Kornit Storm range has ideal maintenance handling capabilities. Its fully automatic maintenance procedures contribute to its long term reliability.
However, you will still need to do an annual check up to its full system, including ink replacement and software updates.
Standard Platen / Print sizes
The kornit Storm II is a dual pallet industrial digital inkjet printer for light and dark colours. It can also be equipped with a children clothes' pallet.
It has a large print area up to 50 x 70 cm, which is the maximum printing area for a Kornit machine. Very suitable for XXL size garments and for cut pieces.
Technical Support
Kornit technical support is global, multilingual and impressive.
Kornit Digital offers engineer support onsite, if required. It provides training to operate the Kornit Storm II from beginner to advanced level.
Professional advice is available on which printing machine your business might suits best.
As part of the purchasing agreement, training is offered when instalment occurs and, for convenience, technical assistance is also offered via video conference.
Conclusion
The Kornit Storm II is a super printing machine: fast, efficient and cost effective with its many features and benefits, saving you time and money.
It is the perfect machine for business that are, like yours, already producing at high level.
This printer will help you to achieve high profits.
Contact The Kornit Dealer

Want To Learn More About DTG Printers?