Epson Surecolor Range: SC-F2000 | SC-F2160 | SC-F3000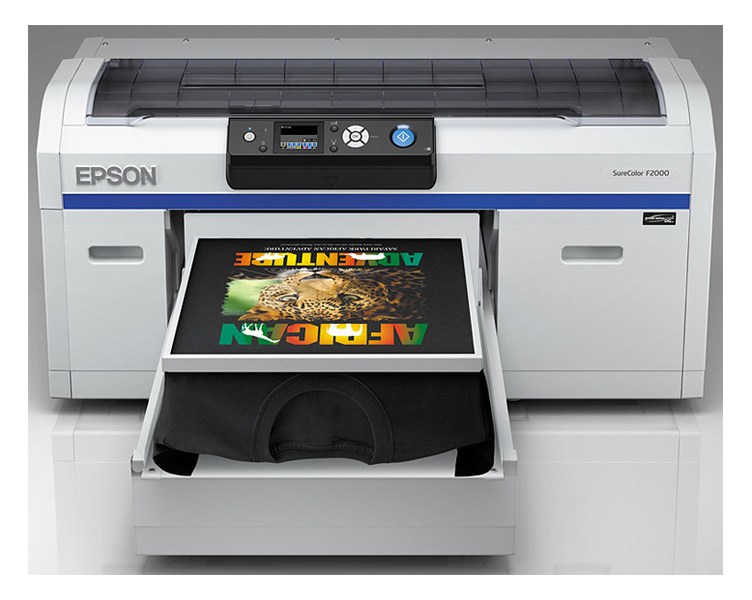 This Printer is no longer Available
Displayed for information purposes only
If you have a second hand machine or you're looking for one.
Check our Used Equipment section
The Epson SureColor SC-F2000 is the global printer giants first foray into the direct to garment printing market.
The t-shirt printing industry has used and still continues to use Epson DX series of print heads in many different DTG brands.
However, this is the companies first complete Epson branded DTG printer on the market.
With their new SureColor printer, Epson has taken a new approach, and has come up with a completely new design.
Using it's previous experience in the market, to ensure superior quality, performance, and reliability over previous models.
Epson now controls everything during the manufacturing process, from the product design, the new print head technology through to the ink specifications.
Read the Epson SureColor F2000 Data Sheet


What about the New Print Head?
The SureColor model comes with a newly designed and an "exclusive to Epson" print head. The all new Epson PrecisionCore™ (TFP) Print Head.
Epson is a bit tight lipped about the new design. We do however, know they do come with a slightly larger nozzle size than the previous DX5 and DX7 heads, which helps reduce the head clogging issues faced with with the previous design.
The new heads now have a 21pl droplet size compared to the 35pl of the other Epson DX heads.
Although they are still capable of the highest image resolutions up to 1440x1440dpi.

What about the RIP Software?
The printer comes with Epson's proprietary garment designing software. This means that you can create a design with their software then send it straight to the printer.
The printer features a large garment printing area. It can print images of up to 40×50 cm onto a T-Shirt. This makes it the ideal if you need to print large designs.
The printer is incredibly simple to maintain. It requires just a few minutes a day to keep in top condition.
Epson SureColor F2000 is designed to work at industrial speed. So if you need to produce a lot of shirts in a short amount time then this is the printer for you.

Why you should consider buying the Epson SureColor F2000 Series?
Epson Epson SureColor F2000 series have several high end features and comes up with Epson's proprietary garment designing software in which you can design your own artwork and send it directly to the printer.
It features a large garment printing area up to 40×50 cm in a shirt.
It is easy to maintain and needs just few minutes to keep it in its top condition.
Manufactured especially to work at industrial speed.
Whether you are just starting a T Shirt printing business, or you have been involved in one for a long time, you know just how important the T-Shirt printer that you buy for your business is.
Make the wrong choice and it can cost you a lot in the long run.
Like What You're Reading?
If you have some further insights to offer, or you have any feedback on this printer, leave a message here.
SureColor print size options
The SureColor can print up to 40cm x 50cm maximum size and 33cm x 40cm as a standard size.
Epson has also provided optional extra printing tables, like sleeve and kids/small sizes, and other shapes to achieve various customised print work.
Small Platen – kids size is (25cm x 30cm)
Pocket or sleeve platens at (10cm x 10cm)
Standard size platen (33cm x 40cm)
Maximum platen size is (40cm x 50cm)
How Much is the Epson SureColor?
Price is ~$23K + GST + Delivery
What is included in this price: The Epson SC F2000 CMYK/white model comes with 1 year warranty, 1 X 250 ml cyan cartridges,1 X 250 ml magenta cartridges, 1 X 250 ml black cartridge, 1 X 250 ml yellow cartridge, 2 X 250 ml white cartridges, 1 X 20 lt Epson pre-treatment liquid, 1 X Epson DG cleaning cartridge, 1 X teflon transfer sheet.
Is It Worth Buying?
This is one of the most high quality DTG printers on the market. It is ideal for almost any situation where you need t-shirt printing, with the printer being able to handle both small, as well as large tasks.
The fact that it is made by a trusted name like Epson means that you can have complete faith in the printer. Strongly recommended!
If you have some further insights to offer, or you have any feedback on this printer, leave a message here.

Interested In This Printer? – Contact the Dealer Directly
Want To Learn More About DTG Printers?