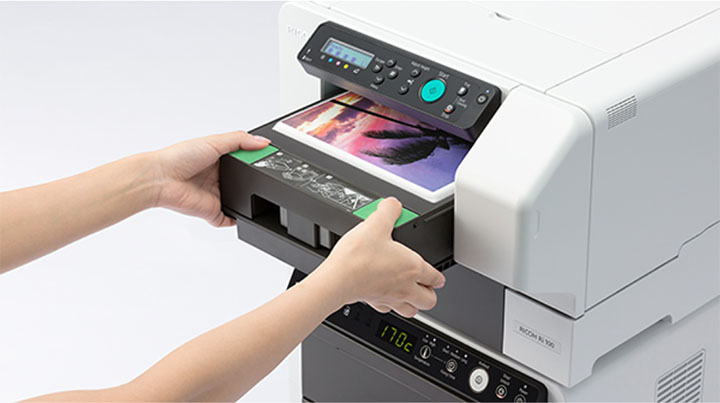 Right up front – this is indeed an entry level machine.
Great for: Home, hobby, Copy shop, newsagents etc. This machine is Not considered a mass production machine.
Some users have found problems with its speed and with its inability to print on dark fabrics, as it does not utilisesd white ink only CMYK INK.
HOWEVER, THE RICOH RI 100 DTG MACHINE HAS MANY TALENTS:
It can print directly on fabrics
It prints using its space saving design
It can print a single item while the customer is waiting
It is suitable for a beginner
It is safe
By many, it has been found fast enough
As it does not require plates to function, it is suitable for small set printing.
So it is a useful printing machine. Typically suitable for a small business where simple printing is done. As printing is done on demand, there is no need for much stock on premises.
Its cost is reasonable, much cheaper than a Brother or Epson machine.
Regarding not printing on dark colours, the printer has 4 modes and depends which one is used, it can produce a "shadow effect". But, in the hands of a more experienced user, it can be avoided.
This has been achieved by printing one colour as an overall print, then printing the A4 centre area with the Ricoh Ri 100.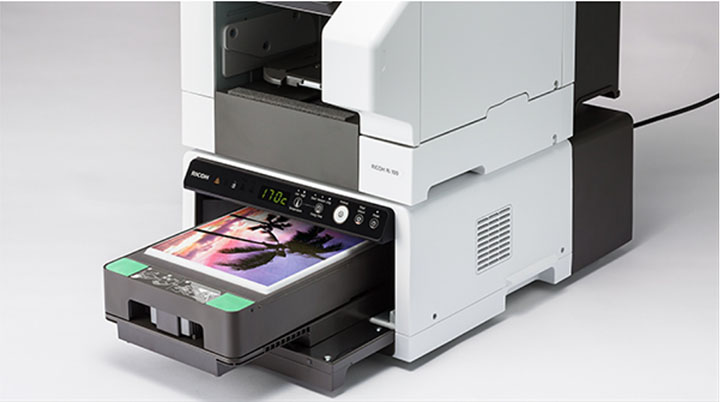 The Print Heads
2 Ricoh Piezo Ink Heads
On demand Piezo inkjet system
CMYK inkjet printheads
Inks and Cartridges
Ink Type: It is a water based garment ink. The ink cost is less than for a Brother or Epson machine at about $85 per litre.
According to Ricoh, the print lasts about 80 washes, which means it could potentially could outlast the life of the garment.
Cartridges Dimensions:
The black ink cartridges supply varies from 600 prints per 140ml for High Yield to 200 prints per 50 ml for Standard Yield.
Based on the manufactures testing, they are rich garment ink cartridges.
Like What You're Reading?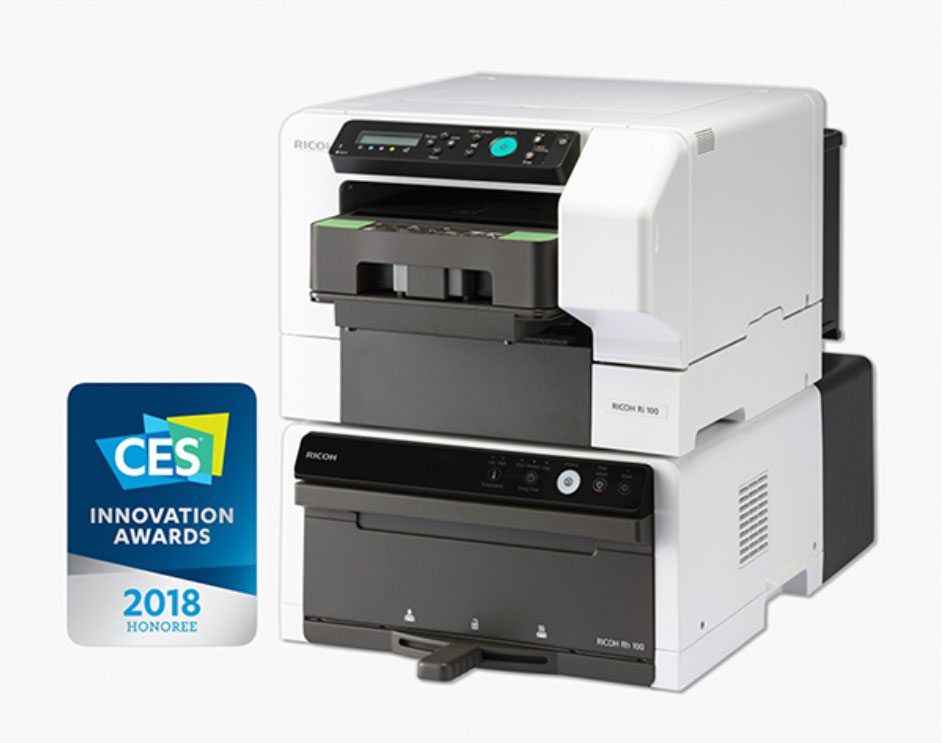 How big is it?
Small. Very small. Think Photo copier small. Actually it's one of the smallest DTG Printers on the market.
Dimensions:
399 x 698 x 292.5 mm (mainframe-non operating)
399 x 760.3 x 292.5 mm (mainframe-operating)
This machine requires a minimum space, and could even be suitable for a desktop.
Therefore, the machine has a compact design, so you could personally install it, if you are skilful with your hands.
The machine weights less than 25 k.

Operating Conditions:
15C to 32C Temperature
15% to 80% RH Humidity

Maintenance
Instructions on how to clean the machine are given when purchasing the machine. A maintenance kit is provided, advising the correct procedure.
Periodically, you will have to clean it, using both an automatic and semi-automatic programmed process.
Standard Platen/ Print Sizes
The Ricoh Ri 100 has 3 platens (2A4 plus 1A5) which will allow you to pre/heat one shirt while printing an other. This will increase your number of clients.
Print Sizes:
The maximum printable area is 204 x 291 mm=Standard Size Tray A4.
For a Small Tray A5, the maximum printable area is 142 x 204mm.

Start-up Time
Regarding the Ricoh Ri 100 start-up time, it's as impressive as the Ricoh Ri 3000 or the Ricoh Ri 6000 DTG printers.
However, while their warm – up time is 45 seconds or less, the Ricoh Ri 100 warm – up time is less than 35sec.

Technical Support
Support regarding wave form, ink evaluation, print heads implementation or any other issues can be found at Ricoh Company LTD.

REVIEW
The Ricoh Ri 100 printer is an affordable machine. Fast enough to provide you with a steady income. It's compact and prints quite well.
While it does not print on dark materials, it can print on light cotton or 100% light polyester. It prints solid colour and on light coloured fabrics.
The Ricoh Ri 100 could be handy to print images of your puppy or items for your kids' school events. It's suitable for personalised t/shirts, tote bags, polo shirts and the like. Good for use at home and to share with your friends.
Considering its affordable cost and the minimum space it requires, I would recommend the Ricoh 100 Starter Jinkjet Printer for your home or business.
Note: To print on dark garments check the Ricoh 3000, the Ricoh Ri 6000 or the Kornit Breeze.
However, all those machines are much more expensive than the Ricoh Ri 100.
You get what you pay for I guess.

Want To Learn More About DTG Printers?