This Printer is no longer in production. It has has been superseded by the M&R M-LINK.
If you have a second hand machine or you're looking for one.
Check our Used Equipment section

M&R i-Dot DTG Printers 4100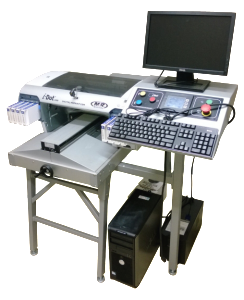 i-Dot 4100 dramatically simplifies direct-to-garment printing. Since M&R's i-Color RIP software reproduces most graphic files with no preparation, all the operator needs to do is open an image file, load a shirt, indicate the garment colour, and press PRINT to produce an image of phenomenal quality, accuracy and vibrancy.
i-Dot 4100 comes with nearly everything necessary to get started in digital textile printing, from the included computer and workstation to the complete start-up kit.
The kit contains eight 220 ml i-Pak™ ink cartridges: four white cartridges for printing on black and dark garments and one cartridge each of Cyan, Magenta, Yellow, and Black (CMYK).
M&R's i-Pak Bulk Ink System is optionally available. These exceptional water-based inks—part of the Artistri™ collection from DuPont™—are PVC and Phthalate free.
Like What You're Reading?