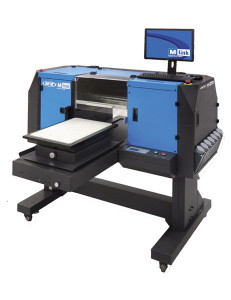 UPDATED: Manufacturer has Stopped Production.
One of the leading T Shirt printers on the market is the M-LINK Direct-to-Garment Digital Printer from M&R.
This is a purpose built printer designed entirely for printing t shirts, unlike many on the market which are merely normal printers retooled to print t shirts.
This means that you're getting a product that is fully designed for the task.
Looking to start a T Shirt printing business or maybe your existing business is expanding to include this market. Whatever your reasons investing in a T Shirt Printer is essential to achieving this goal.
Manufacturer has Stopped Production – Good Deals on Now!

Industry Chatter
M-Link and the M-Link X (RRP at ~$80,000 – $120,000) are both production workhorses that compete directly with the Kornit Breeze in this category.
The typical customer is someone who is upgrading from a cheaper Brother or Epson based models at the starter end of the market.
The M&R Company are known for their automatic screen printing machines which have been reliable work horses for decades. The company is highly recommended. Not only for reliability but also for their customer service.
It's constructed like an army tank. Build to work hard. And all the parts are heavy duty, particularly the head, belts, gears, pumps, motors and filters, pumps, that cop the most use.
The biggest downsides are the consumable prices and the location of the technicians. Not really ideal for customers who are located a long way from the South East of Australia.

M-Link Features
The M&R M-LINK is packed full of features that make it a great potential printing machine.
It features a propriety technology, called Absolute Position® Technology (APT) and M-RIP Software. This technology means that it has fantastic image quality compared to some of its rivals.
What makes this point even better is the machine has 'ink saver technology' built in. With it high ink cost, this is a saving grace for the machine.
Using less ink while still maintaining a high image quality, is always a good thing.
Like What You're Reading?

Another great feature of the M-LINK is that it, while maintaining a high quality image and saving ink, it is also incredibly fast.
It will print a white t shirt in 15 to 45 seconds, depending on the complexity and black t shirts in around two to three minutes.
If you have a lot of t shirts to print, be it for your business or whatever reason, speed is of the essence – and this printer has it in abundance.
If you need extra speed there are two settings. There is the standard two pass printing, but it also has one pass express printing which will print quicker.
Great if you need some throwaway t shirts or t shirts with a simple design, that don't need two passes over with the printer.
This makes the printer multi-purpose, whether you are using it to print hundreds of one use t shirts (for example a festival or event), or if you are running a business that needs quality.

The Benefits of M-LINK DTG Digital Printer from Other Types
Has an exceptional image quality compared to some of its rivals
Has ink saver built in which will save you a lot of money
Has standard two pass printing; one pass express printing which will print quicker
Excellent price point compared to of its competitors
Credibly fast in printing t-shirts


Is It Worth Buying?
If you just want to print some T Shirts at home for yourself, this may not be the machine for you, as the purchase price starts at about the 80K mark.
If you're pgrading from a clap box DTG, and you have some steady work coming in, then YES! this is your girl.
The morning startup process is uber simple Morning nozzle checks are usually good you employ good maintenance techniques – like keeping the caps filled with ink when your not using the machine.
In terms of a pure work horse, the M-LINK is good value. It's at a similar price point compared to that of its competitors, but with far greater reliability. (an M&R strength)
In fact in some ways it has more features than printers that are more expensive (some even double the price), than itself.
The downside, is maintenance and the available service technicians that operate inside Australia. The tech's are located in the Sydney area, so if your machine is located in Darwin, for instance. Maintenance could get a bit costly.
If you are looking for a purpose built, quality, feature packed t shirt printer that is great value then this printer would be one to strongly consider.

Interested In This Printer? – Contact the Dealer Directly
To enquire about the cost price and to arrange a demonstration, contact the dealer by using the form below.


Want To Learn More About DTG Printers?