This Printer is no longer in production.
It has has been superseded by the M-Power.
If you have a second hand machine or you're looking for one.
Check our Used Equipment section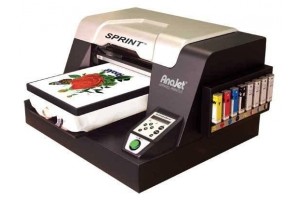 AnaJet® is a U.S. (California) based company that produces the AnaJet Sprint DTG printer (Direct-To-Garment).
Now owned by Ricoh.
This DTG printer prints on both white and dark shirts, using 4 CYMK sealed ink cartridges and 4 white ink cartridges (for dark shirt under color).
Anajet has also announced a brand new high-end DTG printer called the Anajet mPower that is much more expensive than the Sprint described in this article.
See the Anajet web site for more details.
One of the features of this printer is that it will print on 100% cotton, 50/50 blends, or synthetic fabrics (using special PolyBright ink cartridges).
Many DTG printer brands do not print on polyester.
Anajet also provides applications for applying metal foil to its printed shirts, as well as techniques for printing stunning 3D images on fabric.
The AnaJet Sprint enjoys an excellent reputation for reliability, quality, and usability, based on user feedback.
It's fast, has an easy-to-use interface, and prints vibrant colours.
It comes with a limited 1 year warranty and lifetime customer support.
Technical support is very good according to most user reports, although a weak point is that they do not have service techs around the country that can come to your business location to fix broken machines.
Like What You're Reading?