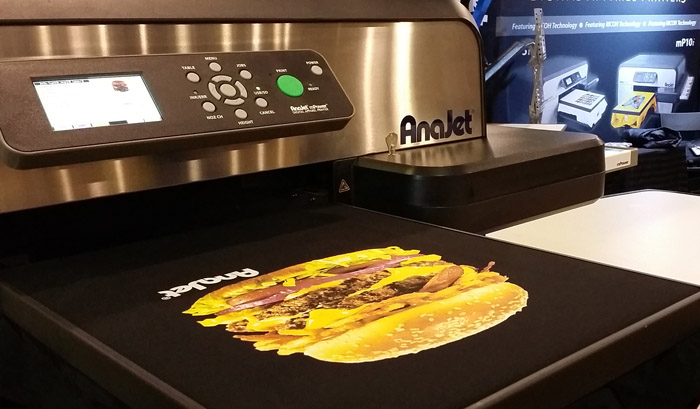 This machine is no longer available. The company was sold to Ricoh. The equivalent Ricoh Industrial Models are the Ri 3000 (Base) and the Ri 6000 (Advanced)
About the Manufacturer
The M-Power i-series AnaJet Direct to Garment digital printing machine is created by one of the very first manufacturers of digital garment printers in the world.
Established in 2006, AnaJet has cemented itself as an industry leader that helps bridge the gap between home-based and small businesses of garment printers.
With an enormous dedication on high quality testing, AnaJet and its committed staff and testing facilities continuously design, assemble, test, and produce digital-technology direct-to-garment DTG printers to accelerate the production of personalised garments.
AnaJet's mPower i-series Features
1. Fast Print Time
AnaJet is known to provide the fastest printing solutions for tee printers. Printing on a light fabric with a 30 cm x 25 cm graphic design will take about 16-20 seconds while it takes only less than 60 seconds to print on dark fabrics.
While other businesses ask their customers to come back after an hour or so, you can have your clients wait at your store for their shirts to be done.
Note: The factory recommended speed tests sounds really great. However you need to remember, these numbers are never accurate. Nor do they actually reflect what happens in real life production. We always recommend you do your own 'speed-tests' at the dealers showroom or at a trade show.
2. Advanced Control Panel
With a state-of-the-art control panel, you can easily control and manage the machine with the AnaRIP software – a user-friendly and complete control panel that's easily understood.
3. Specially Formulated Textile Inks
AnaJet's PowerBright inks print dynamic colors that are toxic-free and water-based. Safe for in-house use, the inks have no loose inks and no messy smells giving you no by-products that are inconvenient and dangerous to your health.
Like What You're Reading?
4. Stainless Steel Printer Heads
Offering 100 billion actuations, the industrial-quality print heads are made by Ricoh- makers of high quality and durable stainless steel printer heads that are the heart of the mPower iseries.
5. Maintenance
This direct-to-garment printing machine is easy to clean and maintain. With automated maintenance programs, the mPower iseries printer is easy to use and easy to maintain.
You don't have to hire professional services – the machine cleans itself automatically everyday and only requires users to manually clean it once a week.
Benefits
Fast Print Time for More Printing Services – it only takes a few seconds to print one shirt – imagine how many prints you can make in one whole day with this mPower iseries model.
The more prints you create, the more money you make.
Low Maintenance – while other machines require rigorous cleaning, you only need to clean it once a week. Plus, its automated maintenance programs gives you time to do more productive things for your business.
Compact – though not portable, it only takes 2 people to move this printer from one place to another.
Affordable – because AnaJet understands that start-up businesses need to make the most of their money, this mPower iSeries model is offered at 70% lower than most similar products in the market.

Summary
The mPower AnaJet i-Series Direct to Garment Printing machine is worth an investment for a start-up t-shirt printing business.
If you're looking for a profitable home business or planning to start a small commercial business, this AnaJet printer is a good way to start.

Interested In This Printer? – Contact the Dealer Directly
Want To Learn More About DTG Printers?