This Printer is no longer Available
Displayed for information purposes only
If you have a second hand machine or you're looking for one.
Check our Used Equipment section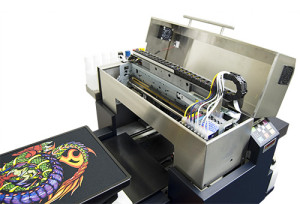 The Veloci-Jet XL digital DTG (Direct To garment) printer is assembled in the U.S.A. and sold, and supported by Equipment-Zone.
It has a large 33CM x 60CM print area, a little "longer" than usual.
Various platen options are available to allow, for example, printing two shirts in one pass — a very nice feature.
It is designed for heavy duty operation.
The Veloci-Jet XL DTG Printer comes with RIP software and a number of handy graphics program aids (EZ Artist), primarily in the form of Photoshop plug ins.
It uses bulk (bottle) ink, which reduces ink cost when compared to sealed cartridge systems.
The company also offers an optional sealed bag ink system.
Print head height automatically adjusts up to about 16.5 cm, which allows printing on extremely thick items.
Print speed is fast and operating costs are somewhat cheaper than with some competing machines.
Users report that the Veloci-Jet produces superior print quality and vibrant colours. Reliability seems to be very good.
Want To Learn More About DTG Printers?