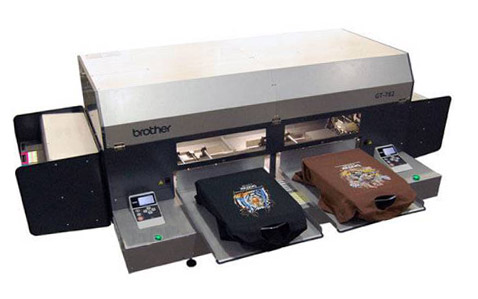 This Printer is no longer Available
Displayed for information purposes only
If you have a second hand machine or you're looking for one.
Check our Used Equipment section
In the last few years, Direct to Garment printing has been increasingly popular.
Due to this, more people have been inclined toward high quality DTG printing machines.
These printers can help you print exquisite images on fabric to help you design the best t shirts.
Brother has designed and developed this digital printing machine from scratch.
Unlike other manufacturers in the market, the company has not just taken a basic printer and turn it into a re-packaged product to print t shirts.
The GT-782 is one of the best production oriented digital t shirt printing machine.
With this high quality printer, it's possible to get exceptional production rates without experiencing any usual problems.
You won't have to come across any extra variables that make digital screen or tshirt printing a less profitable and slower process.
Unlike other models available in the market, this one is a high powered White-Ink production model.
Brother GT 782 comes with a lot of innovative and unique features. This is the primary reason why most customers have loved this product.
With so many features at an affordable price, this printer offers great value for money.
Like What You're Reading?

Innovative Features Offering More Capabilities
The Brother GT 782 comes with independently controlled dual print head modules and dual platen.
Due to this, you can easily print two different garments independently and simultaneously.
This allows maximum productivity. It also gives great potential for higher profitability.
High volume decorators will definitely benefit from this DTG tee printer.
The genuine ink cartridge and white ink system from Brother provides you with exceptional output quality with easy maintenance.
You won't have to worry about any repairs. In addition to this, the company also offers 4 genuine industrial grade print heads.
They can provide you with high end printing speed for all kinds of white ink applications.
Note: The factory recommended speed tests sounds really great. However you need to remember, these numbers are never accurate. Nor do they actually reflect what happens in real life production. We always recommend you do your own 'speed-tests' at the dealers showroom or at a trade show.
With the completely revamped large sized ink cartridges, all your operations will be more economical.
The company has used the driver interface concept of the previous popular models to maintain powerful and easy user interface. It also ensures greater output quality control.
Brother has used a newly developed high end print driver software in this DTG printer. Thus, you don't need an expensive and separate Raster Image Processor.
With this printer, operators can easily customise White-Ink print specific features. The printer also includes some extra high end features.
The print driver software in this printer can interface some of the most popular graphic applications, such as CorelDraw and Adobe Photoshop to ensure seamless white ink prints.
Brother GT 782 includes the reliable and consistent GT 541 platform along with White-Ink capabilities.
However, the machine does not compromise durability and reliability to function properly in an industrial environment.
Contact The Brother Dealer

Want To Learn More About DTG Printers?